A garden man cave is a place that you can go to relax, chill out, or get on with your own hobbies without disturbing the rest of your family. Here we look at the things you'll need to consider when creating a garden man cave, complete with some top man cave ideas to give you inspiration!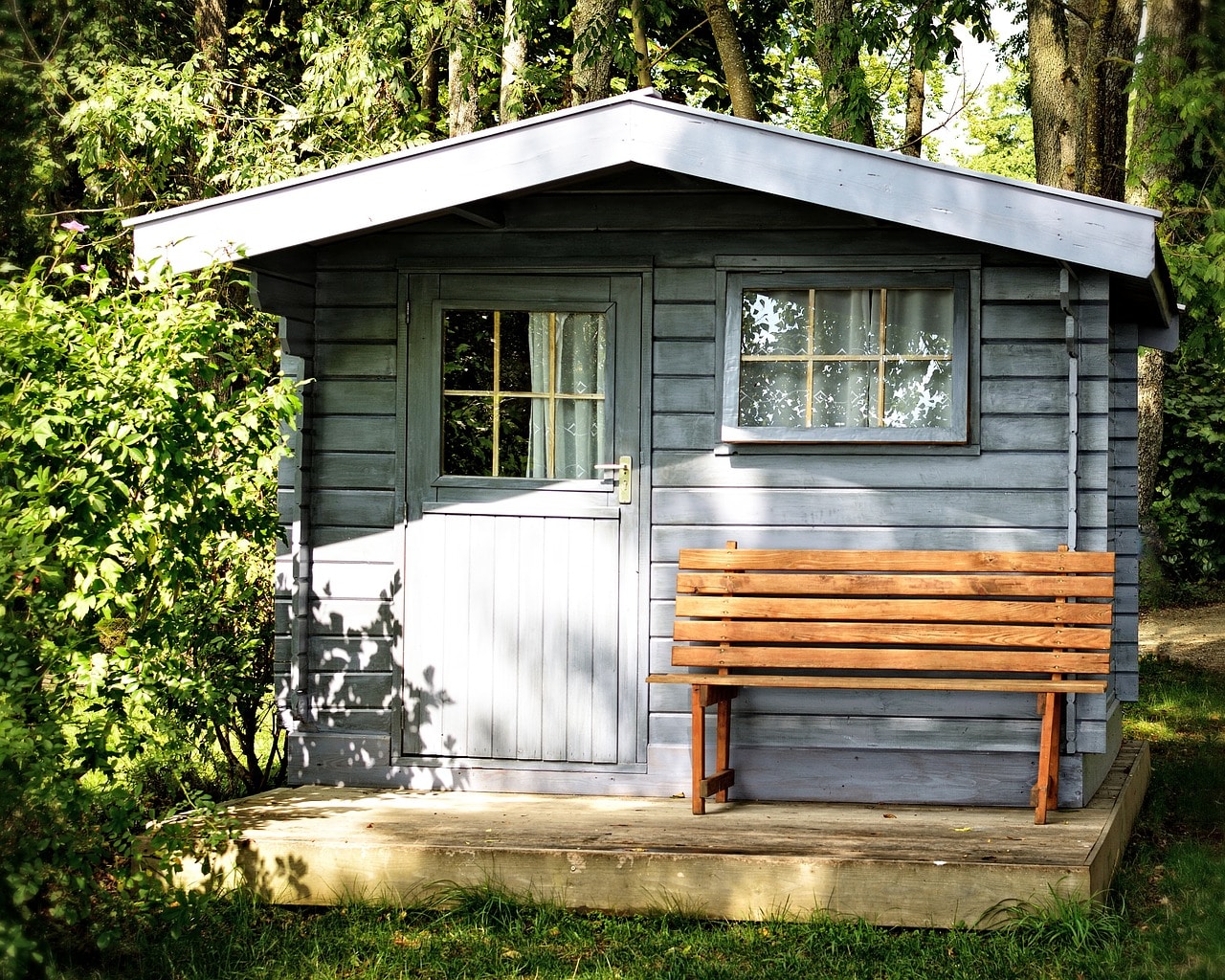 Location of your garden man cave
The first thing you need to do is find the perfect spot for your garden man cave. Do you have an existing building that you could convert? A shed, outbuilding or garage are perfect examples.
If you don't have such a building ready for converting, then you can look to build a new one from scratch. Before you rush in and start cave building, you'll need to think about where in your garden you can situate your new den. What sort of space are you dealing with? It might be that you're blessed with lots of land and have the luxury of choosing where to put your man cave. If you've got a small back garden however, you may only have one or two options.
Think also about what your den will be used for. Will you be kicking back and reading a book? In which case you'll need a minimal amount of space. If on the other hand you want to set up a pool table to play with friends, then you'll need something more substantial.
Building your garden man cave
If you're building your garden man cave from scratch, you'll next need to consider the type of structure you will have.
If it's going to be a garden shed type of man cave, then this shouldn't involve too much work or expense. You can even buy a garden shed kit online and it will be delivered flat packed along with instructions ready for you to start building.
You will need to think about preparing the base of your shed though, and also protecting it from heavy rain.
If your man cave is going to be more of a permanent outbuilding, you will need to consider whether you need planning permission. Your budget may well dictate the type of garden cave that you build. Maybe it will be a brick building, a wooden cabin or a sleek garden room? You'll also need to give some thought to utilities such as water, electricity, heating and air con, and if sound proofing is required.
Garden man cave ideas
The decoration and furnishing of your man cave will very much depend upon the theme or what you're using it for. The possibilities are endless, but here are some of our top ideas:
Sports man cave
Whether you're into football, rugby, darts or golf, your garden man cave could celebrate your favourite sport. Decorate the walls with your preferred football shirts, install a dartboard, table football or pool table. Or you could grab a table and some comfy seats for some card or poker evenings.
Don't forget your garden could be an extension for your garden man cave. How about introducing artificial grass so you can practice your putt just a stone's throw from your golf-themed man cave?
Fake turf makes a perfect astro turf football pitch and it will give a good bounce to any other sport that you might want to play too. Fake grass is also durable, comfortable and pet friendly, so as well as supporting your man cave, it will go down well with the rest of the family too.
Bar garden man cave
The great thing about a bar themed shed is that it can be as simple or as elaborate as you like. You just need a well-stocked fridge and a seating area and you're good to go.
Try installing a bar and bar stools if you have space, and hooking up a large TV and a sound system for some music. Or you could install some optic dispensers and a juke box for a more authentic look.
Again, you could try extending your garden bar to the outside. Install some synthetic grass along with a few garden benches and umbrellas to really complete your pub garden theme.
Library garden man cave
If all of this sounds far too social, why not use your garden den as a study or library? Perhaps you just need somewhere to chill out with a good book? Or a place where you can watch all your favourite films in peace? Whatever you do, your library garden man cave will need comfortable seating, good lighting and a decent TV and surround sound system.
Looking to install a garden man cave? Let Astro Warehouse set the scene with some quality artificial grass.
No man cave is complete without the final finishing touches, and that includes the area surrounding your new den.
Whether you're planning a bar, or a relaxed or sporting theme, we have the perfect range of artificial turf for you. Our products are top quality and come by the roll at unbeatable prices.
Need samples? Order yours here. We also have a range of installation guides to help you fit your fake grass on any surface. Questions? Get in touch with our helpful team.