Artificial grass makes the perfect choice for the homeowner who is looking for a low-maintenance way to create an attractive and practical outdoor space. One that is free from mud, and that doesn't need constant watering and attention. But what if you have trees in your garden that you want to keep, is it still possible to install fake grass around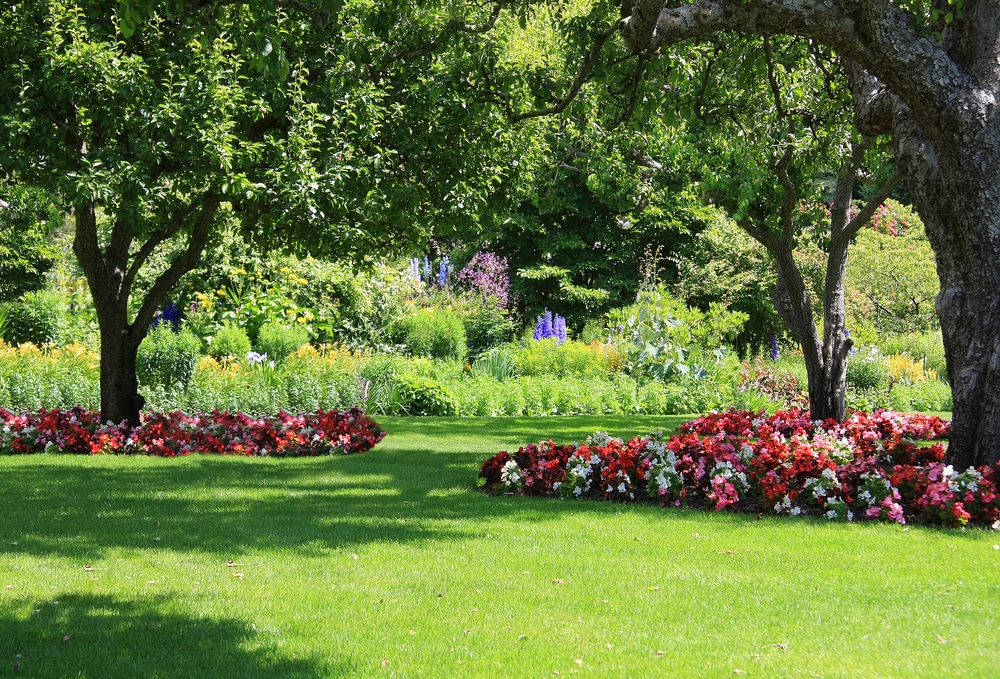 Trees are highly beneficial in many respects. They create attractive features in an outdoor space, provide shade in the summer, and absorb carbon dioxide, making them a crucial environmental feature.
Many people who are considering installing artificial grass in their gardens wonder whether it will affect their trees in a negative way. If you are wondering the same, read on as we explore the subject in more detail and hopefully answer all your questions.
Will a fake lawn harm my trees?
Because artificial grass is designed to have good drainage, you can rest assured that rainwater will drain through and in doing so deliver nutrients to the trees via their roots. In fact, because your trees won't be competing with natural grass for nutrients, you are actually better off with a fake lawn.
Is it possible to fit artificial grass around trees?
It certainly is possible to fit synthetic grass around any existing tree, which is good news if you have trees in your garden that you are intent on keeping, or if there is a Tree Preservation Order (TPO) in place.
If your tree has shallow roots, we wouldn't recommend laying the synthetic turf right up against the trunk. You would be better off creating a border around the tree trunk, perhaps filled with bark chippings, gravel or stones, or even flowers. This will cover the shallow roots without suffocating them, and will look neat and make a feature of the tree too.
If the roots are not on display however, then you can usually fit the fake turf right up to the trunk, although it does look better to have some form of border around it.
Will my tree's roots get hot in the summer?
Artificial grass does tend to heat up more than natural grass during hot weather. However, this should not adversely affect your trees, especially if they make their own shade.
It is a good idea however if there is a prolonged heatwave, to hose the imitation lawn down from time to time to keep it cool.
What is the best way to remove dead leaves from a fake lawn?
If your trees shed leaves during the autumn, then you will need to bear in mind the importance of clearing them from your artificial lawn on a regular basis. No debris should be left on fake grass for longer than necessary, especially organic matter as it can break down and leave stains.
You can either use a plastic rake or synthetic bristle brush to remove the fallen leaves, or a leaf blower. Never use a vacuum cleaner to clear your synthetic lawn however, as it can have a detrimental effect on the appearance of the turf.
Looking for premium quality artificial grass roll at budget rates? Choose Astro Warehouse.
If you're looking to install premium grade artificial grass without breaking the bank, choose Astro Warehouse. Our fake grass ranges offer excellent quality at budget prices, and there's a full range of installation materials available too.
For all the expert guidance you need on choosing the right artificial grass to suit your particular garden landscaping project, we invite you to get in touch.