One of the main benefits of synthetic grass is that it is low-maintenance. However, that doesn't mean that you can leave it altogether. An astro turf garden does need a degree of TLC, and a few key tasks will help keep it in top condition so that it lasts for many years. One question commonly asked by homeowners who have recently had fake grass fitted is, can I vacuum my artificial lawn? Want to know the answer? Read on to find out…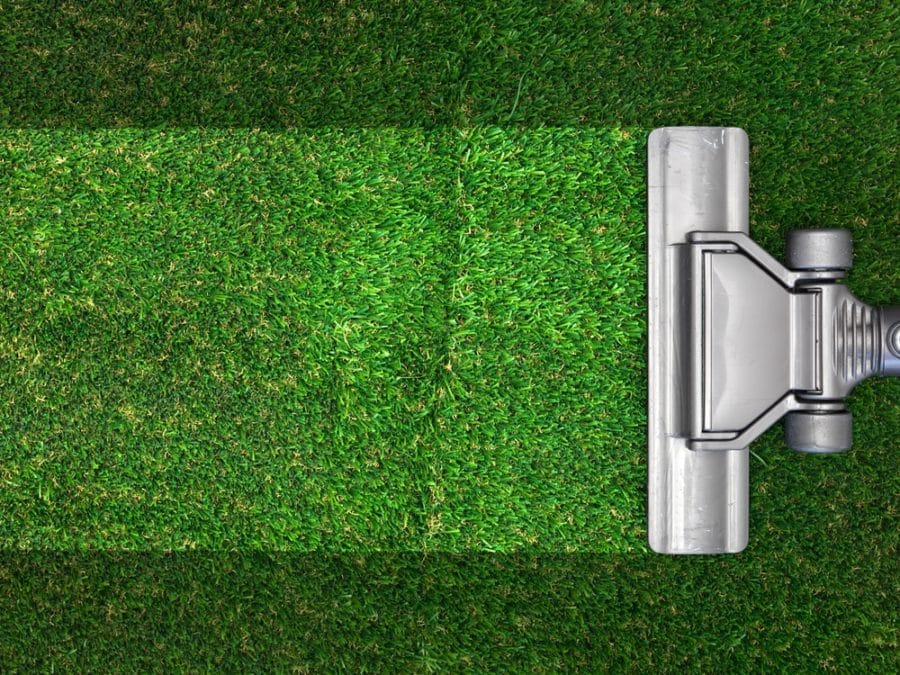 Regular housekeeping is advisable for any astro turf garden. It will help prolongs its life, and keep it looking fresh and new. There are ways to properly maintain your fake grass, but there are definitely some things you should not do.
Synthetic grass: to vacuum, or not to vacuum?
If you are wondering whether you can use a household vacuum cleaner to clear debris from your fake grass, the answer is a resounding NO! Here's why:
Excessive suction can permanently damage fake turf
Vacuuming can cause an uneven rippling effect on the lawn's surface
The infill that's vital for keeping the pile upright will be sucked up
You don't want to lose your infill, because it serves a number of purposes.
Firstly, whether it's sand or rubber, infill does an important job of supporting the lawn by helping the grass blades stand up, or return to their upright position after being exposed to pressure. Secondly, fake grass infill helps to protect the backing of the turf from damage caused by the UV rays of the sun. Lastly, the infill helps to avoid bad odours by trapping liquids, such as animal urine.
So, how to clear debris from an astro turf garden?
The best way to clear leaves or other loose debris from your fake lawn is to use a leaf blower, or a stiff nylon or plastic bristle broom.
Regular brushing of an astro turf garden provides a range of benefits. Firstly, it will give bounce to the pile. As long as you brush it in different directions, it will fluff up nicely and stay looking natural and like new. Be sure not to apply pressure when brushing though, as you could end up with an uneven looking synthetic lawn. The recommendation for brushing frequency is monthly, although for areas of high traffic you should increase this a bit.
So, whatever you do, for all the reasons stated, please don't vacuum your fake grass!
Take advantage of the benefits of synthetic grass with help from Astro Warehouse
An astro turf garden offers an array of benefits, from low-maintenance to a mud-free outdoor experience.
At Astro Warehouse, we offer a comprehensive collection of fake grass products, together with a range of installation materials, providing all you need for the job. Plus we've compiled a selection of installation guides to help you fit your imitation grass on any type of surface.
For premium quality, cheap fake grass, you are welcome to get in touch with our helpful experts.