No matter how hard we work in the garden, there will always be some issues that try to test us! Here we look at some of the more common gardening problems. Whether it's weeds, disease or dried-out grass, we provide a few tried and tested solutions for how to overcome them.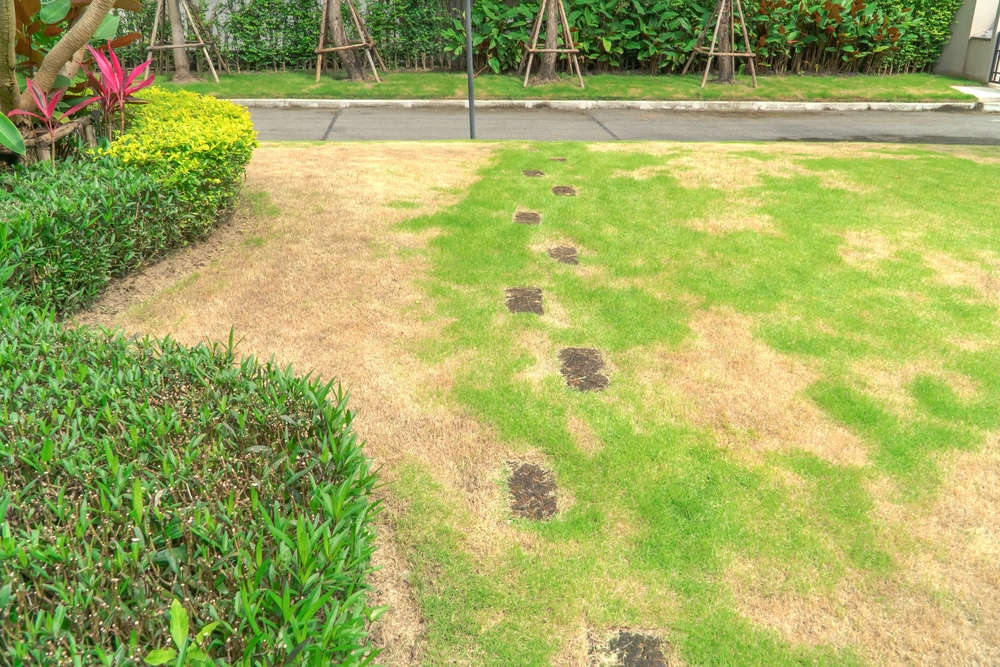 Black spots and mildew on roses
You can spend ages looking after your roses, only to have them ruined by a fungal disease such as black spot or mildew. Black spots will be noticeable all over the leaves, and mildew will appear to be a white powder on the leaves and stem.
These gardening problems attack roses when the plant is under stress, usually because it is lacking in food or water. To prevent fungal diseases from taking hold, keep your roses well-fed and watered and make sure the ground around the base of your roses is well mulched with compost or chipped bark to keep the moisture in.
Weeds
Weeds are perhaps one of the most common garden problems. It seems like a never-ending job pulling up weeds, only for them to return a few weeks later. The best solution is to stop the weeds growing in the first place. Pack your borders and flowerbeds with plants and shrubs so that there's very little soil in which weeds can begin to grow.
If you're starting from scratch, make sure the ground is completely clear of weeds. Strong, stubborn weeds such as bindweed will easily re-grow if you leave even a small section of the plant.
Once you've removed as much as you can, spread a layer of mulch around your plants to stop any more getting through. You can also try using a weed membrane before spreading the mulch to prevent the most persistent weeds. If weeds do appear, get rid of them whilst they are young, or they will begin to compete with your plants for the nutrients in the soil.
Insect gardening problems
Gardening problems relating to insect attacks quite often involve greenfly or whitefly. Whilst some gardeners may immediately rely on using insecticides, this can end up killing off other creatures which are helpful to your plants.
Most of us are now trying to be more environmentally friendly and use organic solutions such as encouraging more birds into the garden which will feast on these pests. Planting a variety of different flowers will attract wasps, hoverflies and ladybirds which will also eat the insects. 
Patchy or dried out grass
Garden problems relating to lawns often revolve around grass looking patchy, brown, full of weeds or dried out.
A hot summer will undoubtedly dry out the lawn and it can be a thankless task trying to keep it looking green and hydrated. Grass that is patchy can be down to the poor soil condition or, if you own a dog, you may notice patches occurring because of the dog urinating on your lawn! Keeping a lawn weed-free takes a lot of effort and maintenance. It also involves feeding and aerating the lawn on a regular basis.
Keeping your lawn looking good takes work, which is why more people are choosing to replace their grass with an artificial lawn. Once installed, fake turf needs very little maintenance. A simple brush every now and then, along with removing any leaves or debris from the surface, is perfectly sufficient. Artificial grass looks amazing and lush throughout any hot weather, and will not be affected by pet urine either.
Muddy gardens
Whether you live in a wet climate or have a lot of foot traffic that is causing your garden to become a quagmire, these muddy garden problems can become a depressing eyesore.
As a solution, check the drainage of your lawn. It might be that your garden slopes and collects water at a certain point, meaning that it needs to be re-worked so that the lawn slopes away from your house. Or perhaps the run-off from your lawn is blocked with debris and vegetation, which need to be cleared.
A long term, easy win is to replace your lawn with fake grass. Artificial turf looks fantastic all year round, even in the wettest winter months and will mean no more muddy mess in your garden (or traipsed through your house). If installed properly, a synthetic lawn will have a better drainage system in place than natural grass, meaning it can cope with the heaviest downpours.
Overcome lawn gardening problems with fake turf from Astro Warehouse
Lawn gardening problems such as muddy, dried out, patchy, or weed infested grass can be easily fixed by replacing it with an artificial lawn. Fake grass needs very little maintenance and will always look attractive throughout the year.
Not only is our artificial grass range premium grade quality, it also comes by the roll and is supplied at unbeatable prices.
Need samples? Order yours here. We also have a range of installation guides to help you fit your fake grass on any surface. Questions? Get in touch with our helpful team.