The benefits of children playing outside are well known and include getting exercise, fresh air, using their imagination and engaging in social skills. But every parent knows the battle of trying to get children away from their screens. These garden play area ideas will help inspire kids to go outside and play, no matter what the size of your garden.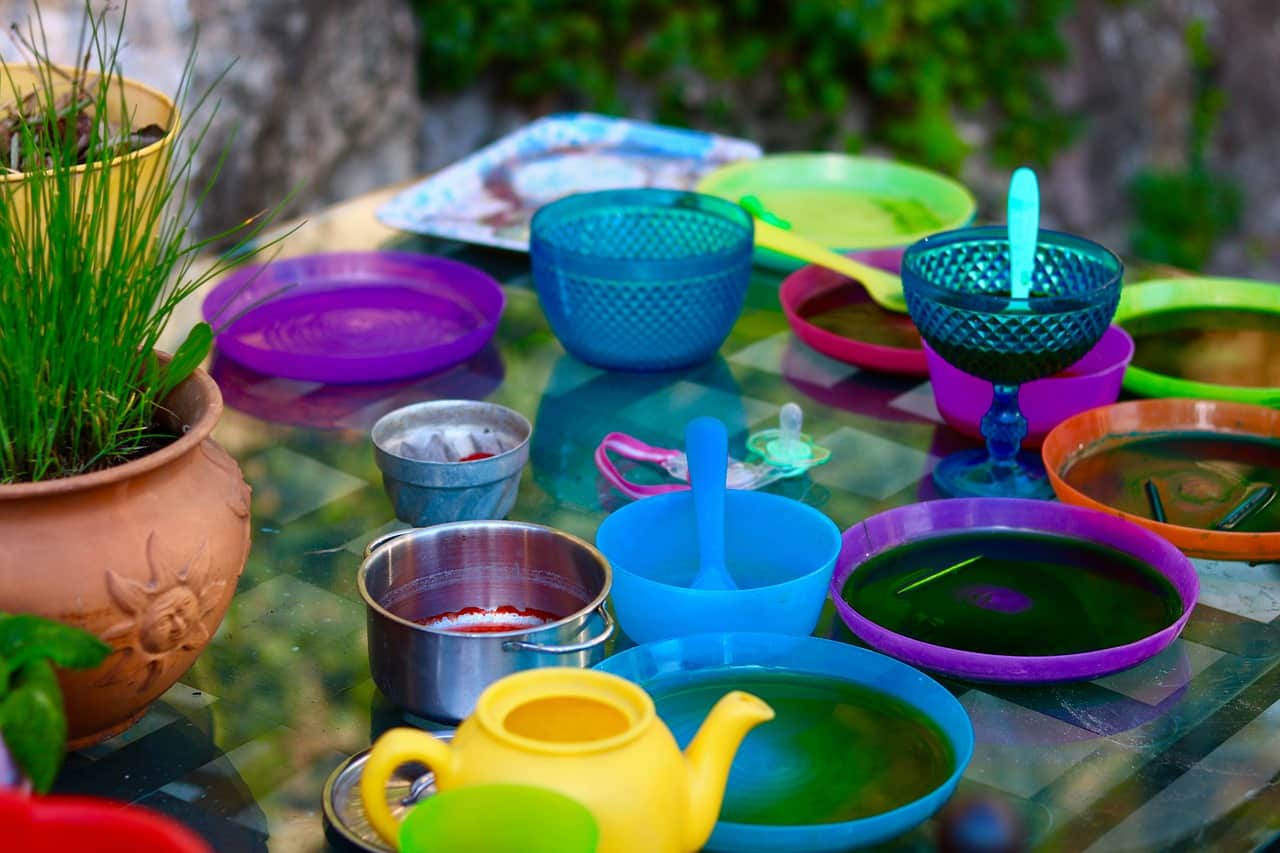 1. A play house
This might not be overly original as far as garden play area ideas go, but having an outdoor playhouse along with a good dose of imagination will encourage youngsters to play. As well as being a traditional house, this space could also be a shop, café, school, kitchen, crafting area or reading area. Try adding props or dressing your house for the appropriate theme!
The playhouse doesn't need to be elaborate… a simple structure with a roof and walls, complete with a couple of built in benches or garden chairs will work perfectly well.
2. A sensory zone
A sensory zone is great for small garden play area ideas. Depending on the size of your space, you could use a pot or a large tray which will contain the mess whilst your little ones engage in free play. Children love the feel of different textures, so try adding small rocks or you could use sand, dried pasta, water, rice, beans or anything else you can think of.
Again, use different toys to go with your sensory pot. Try adding toy diggers with stones, boats and pirates with water and practically any type of treasure can be buried in sand or rice for children to find.
Why not expand your sensory zone? You could install artificial grass to make a comfortable, soft area for children to sit or lie down on. Hang colourful decorations in trees or plant windmills in the borders. The ideas to appeal to children's senses really are endless!
3. The new tree house
If you're lucky enough to have space for a real tree house, then this will appeal to most children of different ages.
For those who are lacking in space and looking for small garden play area ideas, you could install a new version of a tree house by building a simple platform above the ground complete with a ladder, slide, rope or swing. You'll be surprised at just how much the kids enjoy playing underneath the platform as well as on top!
Use wood bark chippings or fake grass to surround your tree house to give a good bounce and cushion any slips and falls.
4. The mud kitchen
Got a small garden? Play area ideas don't come any easier than installing a mud kitchen. A dedicated mud kitchen area doesn't need to be big and will contain the mess and keep children amused for hours. Try setting up a table or bench, or you could even use an old play kitchen. Add in some old bowls, saucepans, utensils, a sink or washing up bowl and finish it off by adding water and mud.
A good tip is to have some aprons handy here too! Children will love to spend time playing at baking, cooking dinner, or just generally enjoying the feel of pouring and mixing mud. To complete the theme, install some false grass around the area, which is hard wearing, low maintenance and easy to clean once the fun is over too.
5. The astro turf garden
For the ultimate in garden play area ideas, you could install astro turf into your garden, or a section of your garden. There are lots of ways to use artificial grass in a child's play area.
Perhaps your artificial turf will be used as garden football pitch? Or you could set up your very own miniature golf course. Alternatively, for younger children, artificial grass will be a good backdrop for playing with water, sand, or a playhouse as it's durable, needs practically no maintenance and can be easily cleaned.
Let artificial grass from Astro Warehouse complete your garden play area ideas
Whatever garden play area ideas you choose, artificial grass from Astro Warehouse can really finish your area off. Fake turf will not only look good, but it is hard wearing and soft to touch too, which kids of all ages will love.
Our artificial grass range is premium grade quality and it comes by the roll, supplied at unbeatable prices. Check out our Astro Neptune grass which is perfect for kids to play on.
Need samples? Order yours here. We also have a range of installation guides to help you fit your fake grass on any surface. Questions? Get in touch with our helpful team.