Do you have an odd-shaped garden? Maybe you're working with a very narrow space, or perhaps you have a sloping garden? With awkward garden spaces it can be frustrating trying to work out how to best utilise your outside space. Here we look at some of the more common awkward garden spaces with inspiration on how to make the most of what you've got.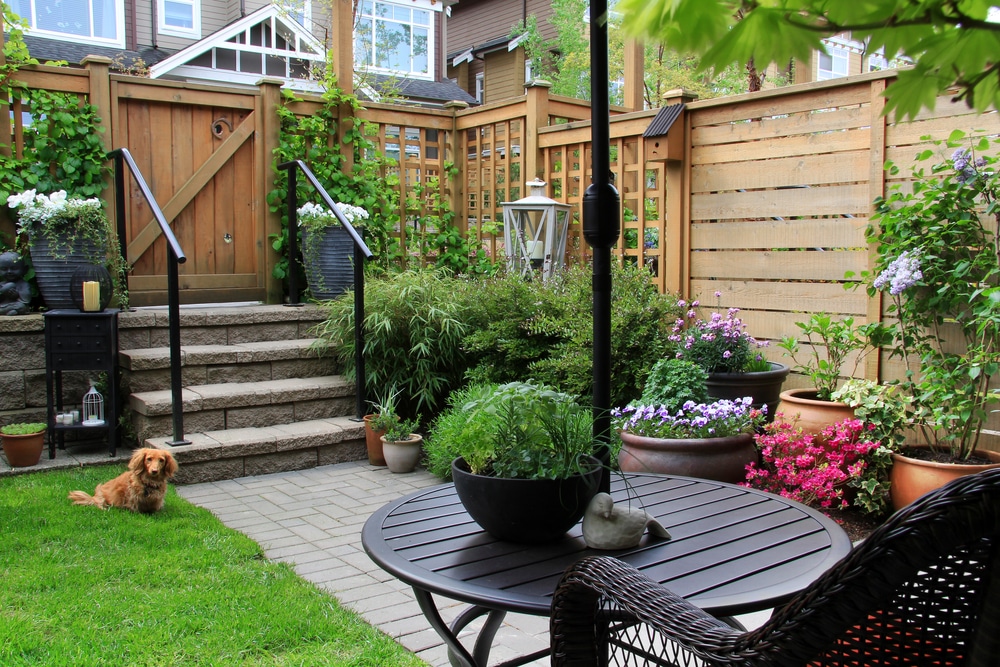 1. Triangle garden ideas
Triangular shaped gardens are quite common awkward garden spaces. The harsh angles and pointy features are difficult to deal with. To soften the shape, you could try painting the surrounding fences in a pale colour and then train plants to grow up and around them.
To help even out the shape, try drawing your eye to the front of your triangle garden with the use of bold and bright patterns. Dot some brightly coloured pots or add garden furniture or a garden rug with a bold print. For a greater contrast, keep the area directly behind this simple. Synthetic grass looks stunning and is extremely low maintenance, and would set off your bold area beautifully.
Finally, try putting a garden seat at the far point of your triangle shaped garden which will make use of this nook and bring a new perspective in which to sit and admire your garden.
2. L-shaped garden ideas
The bottom part of an L-shaped yard is one of those key awkward garden spaces and will sometimes get treated as a bit of a dumping ground. You could use this part of your garden for things that you might want to keep out of sight, such as a play area or shed.
Try keeping things simple with an L-shaped garden. Ideas for breaking up the straight lines of this shape include creating curved borders, a curved path or a curved patio to give a contrast. Don't forget, you can keep things low maintenance, simple and hassle free by installing artificial grass.
3. Small garden ideas
Whether you have a cosy courtyard or a small square garden, there are several tricks that you can use to open up your outside area and create more space.
For a courtyard which feels enclosed, try painting your outside walls or fences in white or a light colour to give an instant lift. Corner garden seating ideas for this type of garden include rattan stools or pouffes which use less space, or try investing in a corner sofa which will suit this area perfectly.
Add a large garden mirror to the wall of your courtyard or square garden to give the illusion of space, as well as flooding your area with light.
Another good tip is to use uninterrupted lines within your small garden. So rather than opting for many fence panels, you may want a single brick wall or single wood panelling. Installing fake grass throughout your garden will also help to give a similar illusion of space with no interruptions.
4. Sloped garden ideas
A sloped garden is perhaps one of the trickier awkward garden spaces to deal with. Decking can help to improve the look of a sloping garden by levelling out the ground and filling in unused areas, giving your garden more space and purpose.
An alternative to decking is to build in some garden steps to divide up the levels and give you several layers of space that can be used in different ways.
Dealing with awkward garden spaces? Keep things simple with natural looking false grass from Astro Warehouse.
Awkward garden spaces don't have to be problematic. The key is to concentrate on the good points of your garden and use clever tricks to disguise the bits that you don't like.
Artificial grass can help keep things simple in awkward garden spaces and the bonus is that once installed, fake turf needs very little maintenance.
Not only is our artificial grass range premium grade quality, it also comes by the roll and is supplied at unbeatable prices.
Need samples? Order yours here. We also have a range of installation guides to help you fit your fake grass on any surface. Questions? Get in touch with our helpful team.