A change in level in a garden is a good opportunity to introduce steps. It's not only a practical consideration, but can be a chance to make a statement or create interest within an outdoor space. In this post, we look at how to build steps in a garden, and how to make those steps look fabulous!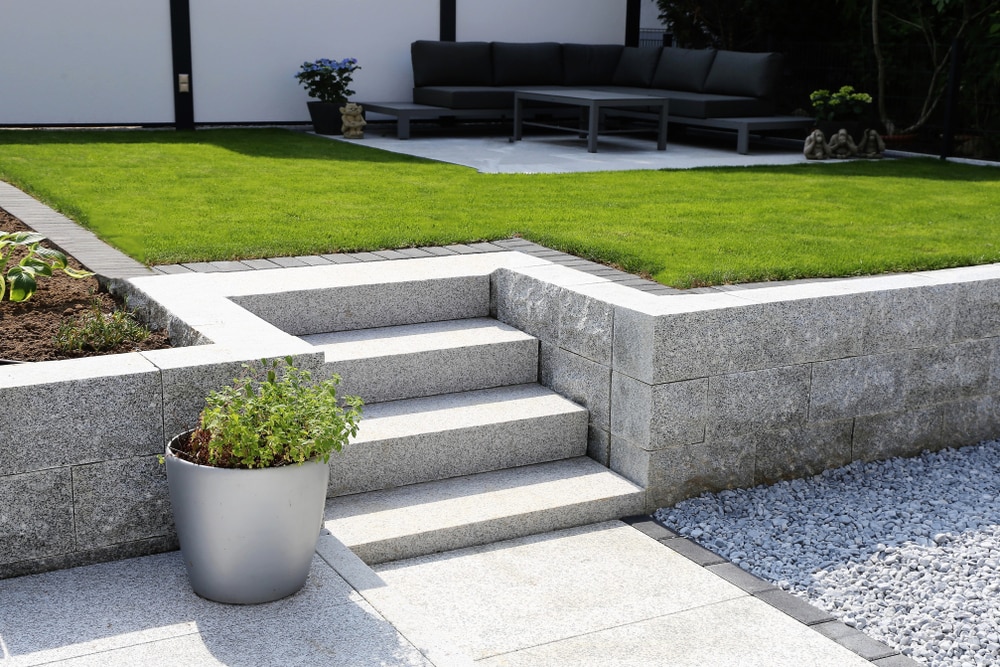 How to make garden steps – design points
Before you even start to build garden steps, you should think about the design. Garden steps should be a uniform height and width, and should be of the same measurement in depth. The minimum height for steps should be 100mm, and the maximum height for the comfort of walkers, should be 200mm.
Think about where your steps will be located, and the pace that you'd like the transition from first and last step to be. Wide, deep steps give a sense of being relaxed, whereas narrow steps, or shallow, steep steps, create more of a sense of urgency.
Steps can be crafted from a variety of materials including gravel, bricks, concrete slabs or flat stone. The material you choose, along with the gradient, will affect the design.
How to build garden steps – preparation
First things first, mark up the area with pegs and builder's line from the top step down to the bottom step. You can check that you have a perfect right angle with your steps by using a builder's square.
You now need to work out how many treads and risers you need. Mark up where the back of the highest tread will end on your top step and then, using a spirit level, measure the horizontal distance to the first riser and the vertical distance to the ground on your lowest step.
Next, divide the vertical height by your riser height, then divide the horizontal length of your flight of steps into a suitable number of treads.
Dig out any grass in your marked out area. Then, using more builder's line, mark out the back of the treads of your steps and roughly shape the steps with your spade.
At the base of your steps, you will need to dig a smaller trench which pre-empts the first riser. It should be about 125mm deep and, when flat, you can concrete this area and then leave it to dry for 24 hours. 
How to build garden steps with bricks – the build
Once the trench at the base of your steps is dry, you can build the first riser, in this case using bricks and cement. Use two layers of bricks and keep checking that they're straight with a spirit level. Leave this to dry for two hours.
Next, fill in behind this first riser with hardcore and flatten this down with an earth rammer.
Position the slabs for the first base tread leaving an overhang at the front of about 40mm.
Repeat these stages using bricks and the hardcore for the next riser and tread, measuring and checking your depth is the same as the first.
How to make steps in garden – complete the look
Now that your steps have been built, it's time to finish off the look. You could build up the slope on either side of the steps with earth, and then consider planting or turfing the area.
For a striking finish, why not use artificial grass on your steps? Synthetic grass is durable and will stay looking fantastic even with a lot of foot traffic up and down your steps. False grass requires less maintenance than real grass and can easily be used to cover stone or concrete steps. Fake grass can also be used on either side of your steps, or would make a great focal point at the top or bottom of your newly built garden steps.
For quality fake grass to finish off your garden steps, trust Astro Warehouse
Looking at how to build garden steps with a fantastic finish? Astro Warehouse can supply fake lawn to either cover your garden steps or to complete the surrounding areas.
Not only is our artificial grass range premium grade quality, it also comes by the roll and is supplied at unbeatable prices so rest assured, there's no reason to look anywhere else.
Need samples? Order yours here. We also have a range of installation guides to help you fit your fake grass on any surface. Questions? Get in touch with our helpful team.