It may not feel like it with the recent hit and miss weather, but summer is well and truly here. It's a good time to think about any jobs that need doing in the garden before autumn approaches. From egg chairs to an astro turf garden, here we take inspiration from some of the must-have garden items to bring you a rundown of the latest essential summer garden trends.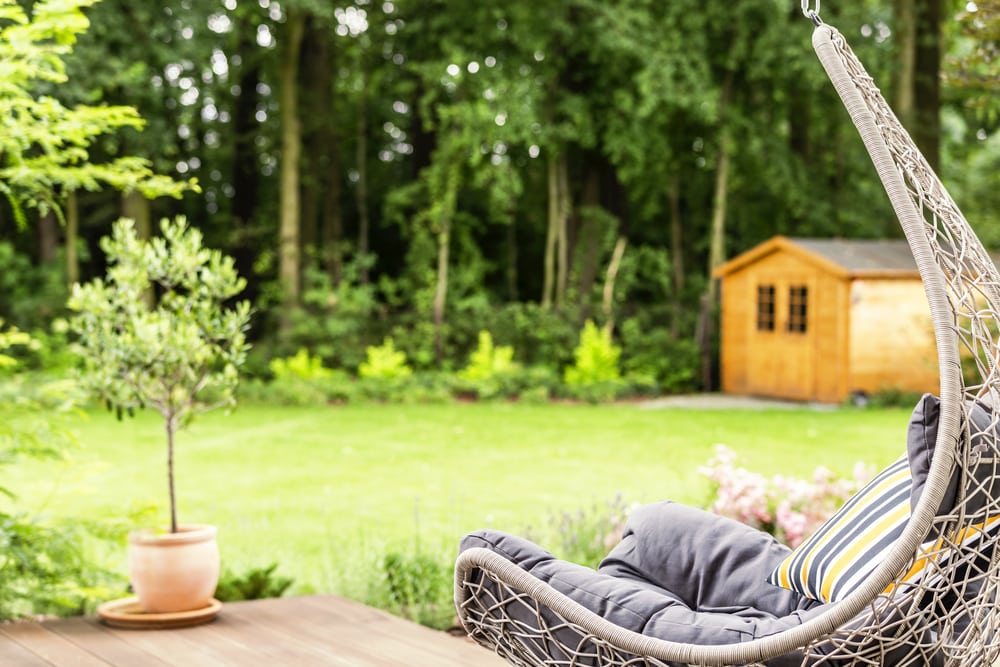 Bright colours
Whilst greys have been a popular colour for hard landscaping features such as fences, sheds and furniture, bright bold pops of colours in the garden are very much on trend this summer. Choose big bright blooms, or create vibrancy by going for bold coloured pots, garden accessories and soft furnishings like rugs and cushions. To avoid a chaotic look, it's best to stick to a few bold colours, or group your shades into clusters around your garden.
Raised beds
Raised beds are an ideal way to grow flowers or vegetables in a small or awkward sized space. Not only do they give your plants better drainage, they help to protect them from pests too.
There are plenty of places to buy raised beds or, if you're feeling creative enough, why not have a go at making your own from unwanted sleepers or strips of wood? Upcycling your unwanted items is a key trend this summer, and you'll be doing your bit for the environment too.
Small is beautiful
Lockdown has shown that whether you have a balcony, courtyard or large garden, outdoor spaces are vital places to relax, unwind and enjoy planting.  Window boxes, containers, vertical gardening and miniature green houses have all helped small places flourish, allowing the satisfaction of 'growing your own'.
Wildlife gardens
Quite rightly, there's now much more focus for gardeners to help the environment whether that be recycling, upcycling or sustainability. A key garden trend this summer is to introduce wildlife gardens. Plants such as buddleia, lavender, hollyhocks and foxgloves are just some of the plant examples which create much needed havens for bees and butterflies.
Egg chairs
These stylish swinging chairs look great in any garden large or small, and are a key garden trend this summer. Not only are they extremely comfortable for a quick doze or to curl up with a good book, but they provide some welcome shade on hot days.
Most are lightweight enough so that they can be moved to different places in the garden, allowing you to find your ultimate relaxing spot.
Astro turf garden
An astro turf garden is one of the biggest trends for summer 2021. There's no need for your usual lawn maintenance, instead allowing you to enjoy a lovely looking green lawn with no mud throughout the year. Artificial grass is durable, comfortable and great for the entire family, including your pets!
Astro turf garden ideas include a football pitch, putting green or sensory garden. Plus fake grass makes a brilliant base for any kind of play equipment.
Astro turf garden costs may initially seem high because of the outlay on materials and installation. However, the investment in the long term is minimal because there is no need for tools such as a lawn mower, chemicals to feed and weed or a shed to store it all in.
Looking to create an astro turf garden this summer? Look to Astro Warehouse.
If you're keen to reduce your garden maintenance, and would instead like to enjoy the benefits of immaculate, neat grass, think about investing in an astro turf garden courtesy of fake grass from Astro Warehouse.
Not only is our artificial grass range premium grade quality, it also comes by the roll and is supplied at unbeatable prices.
Need samples? Order yours here. We also have a range of installation guides to help you fit your fake grass on any surface. Questions? Get in touch with our helpful team.