When you think of a garden, you might not immediately think of a balcony garden, but being short of space doesn't mean you can't enjoy a green oasis of calm. If a balcony is your only outside space, then it's vital to do all you can to make the most of it. Take a look at our balcony garden ideas and get ready to see your outdoors come to life.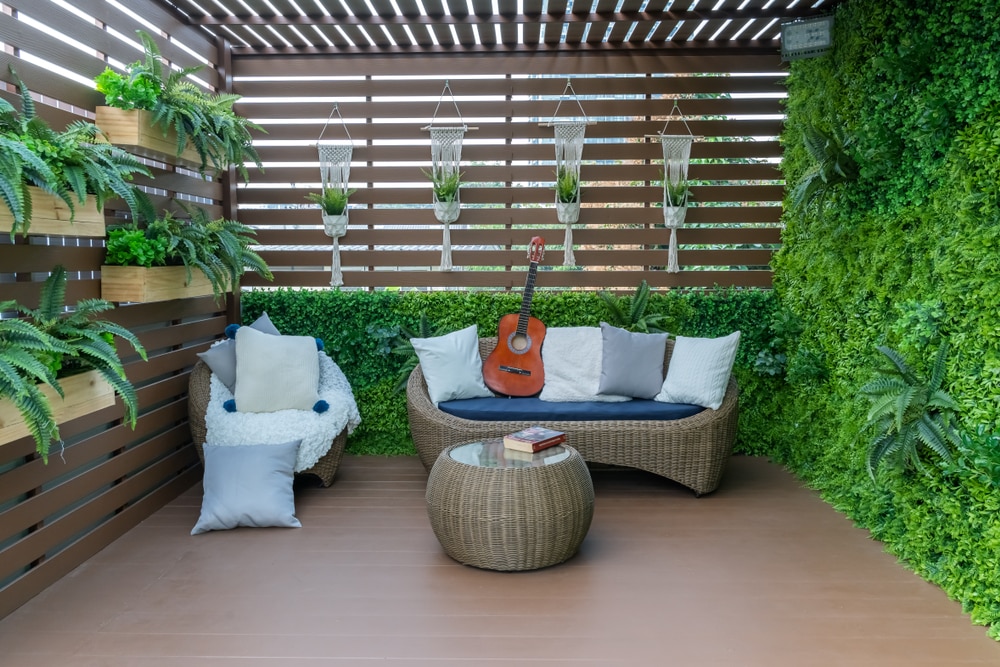 1.            Dot with pots
Whether you opt for a few large filled pots or lots of smaller ones, a floral display will make a huge difference to your balcony. Think about colour and fragrance, and how you can use it to create a certain mood.
Will you go for brightly coloured pots bursting with perfume to enliven your day, or keep things calm and tranquil with subtle shades and calming scents?
And what about our buzzing and fluttering friends? Think about planting specifically to attract bees and butterflies, to add a dash of wildlife to your balcony garden. Check out this bee-friendly plant guide from Friends of the Earth for inspiration, and these top ten plants to attract butterflies from Gardeners' World.
2.            Extend the inside outside
Extending your inside space outdoors is a clever garden balcony idea to make your overall living area feel more spacious.
Use tables and chairs or even garden sofas to create an outdoor lounge, and build on this with accessories such as outdoor rugs, floor cushions, pouffes, lanterns or lighting.
Give some thought to textures with your furniture too. Wood and rattan blend well with a natural environment, but if you prefer a more modern feel then you'll probably get more out of colder forms such as metal and brick. 
3.            Make use of railings
When considering small balcony garden ideas, try to make use of your balcony railings.
Planters can be hung directly on to them filled with blooms and greenery. This will create a lush oasis, without encroaching on your space.
For a rustic look, try hanging used, de-labelled food tins to your balcony railings with zip ties and then filling them with colourful blooms, or even herbs ready to flavour your next culinary delight!
4.            Try vertical gardening
For balcony garden ideas, think vertically rather than just horizontally. If you are short on space you will find this idea works well.
A trellis attached to the solid walls of a balcony can be used to hang pots, a stunning look when populated with bursts of vibrant colours.
Pots fixed directly onto a balcony wall can look effective too. Fill them with trailing plants to give a stunning contrast.
Lastly, don't forget to make use of your balcony ceiling. Try hanging terracotta pots or macramé baskets from hooks for a simple yet effective vertical garden look. A chain of pots is another idea that will create a striking feature.
5.            Make use of artificial grass
Why not give your balcony a greener look by adding fake grass? It's comfortable, realistic and oh-so easy to maintain. Synthetic grass has excellent drainage properties too, so there's no need to worry about your balcony flooding after a heavy rainfall.
Using astro turf on a balcony will make a cold, concrete space feel more welcoming and give a more natural feel to your balcony garden. Here are some great ideas on how artificial grass can brighten up a balcony. You could even put fake grass on your balcony walls. Now how about that for an outlandish and eye-catching idea?!
6.            Grow herbs and vegetables
This apartment balcony garden idea demonstrates that it is possible to grow food in a small space!
Use a wooden pallet against a wall and fill with herbs for an instant kitchen garden. Do remember though to drill holes into the bottom of each level to allow water to pass through. Mint, chives, rosemary and sage are all easy to grow and will give a range of interesting textures to your balcony, as well as a tempting air of fragrance.
There's a variety of vegetables you can grow in pots or planters too. Not only does home-grown produce taste amazing, it looks superb too! Easy to start vegetables include cucumber, beans, spinach and tomatoes.
For garden balcony ideas using quality synthetic grass, look to Astro Warehouse
Excited about creating a beautiful balcony garden? If you're going for fake grass, choose Astro Warehouse. Not only is our artificial grass range premium grade quality, it also comes by the roll and is supplied at unbeatable prices.
Need samples? Order yours here. We also have a range of installation guides to help you fit your fake grass on any surface, balconies included. Questions? Get in touch with our expert team.