Front gardens are often neglected, but they are very important. They make visitors feel welcome, break up the grey of our streets, nourish wildlife and help us to feel good about where we live. Front garden landscaping can be tricky as they need to be designed around parking, pathways and storage for wheelie bins. Here we look at some front garden trends and front garden ideas for inspiration.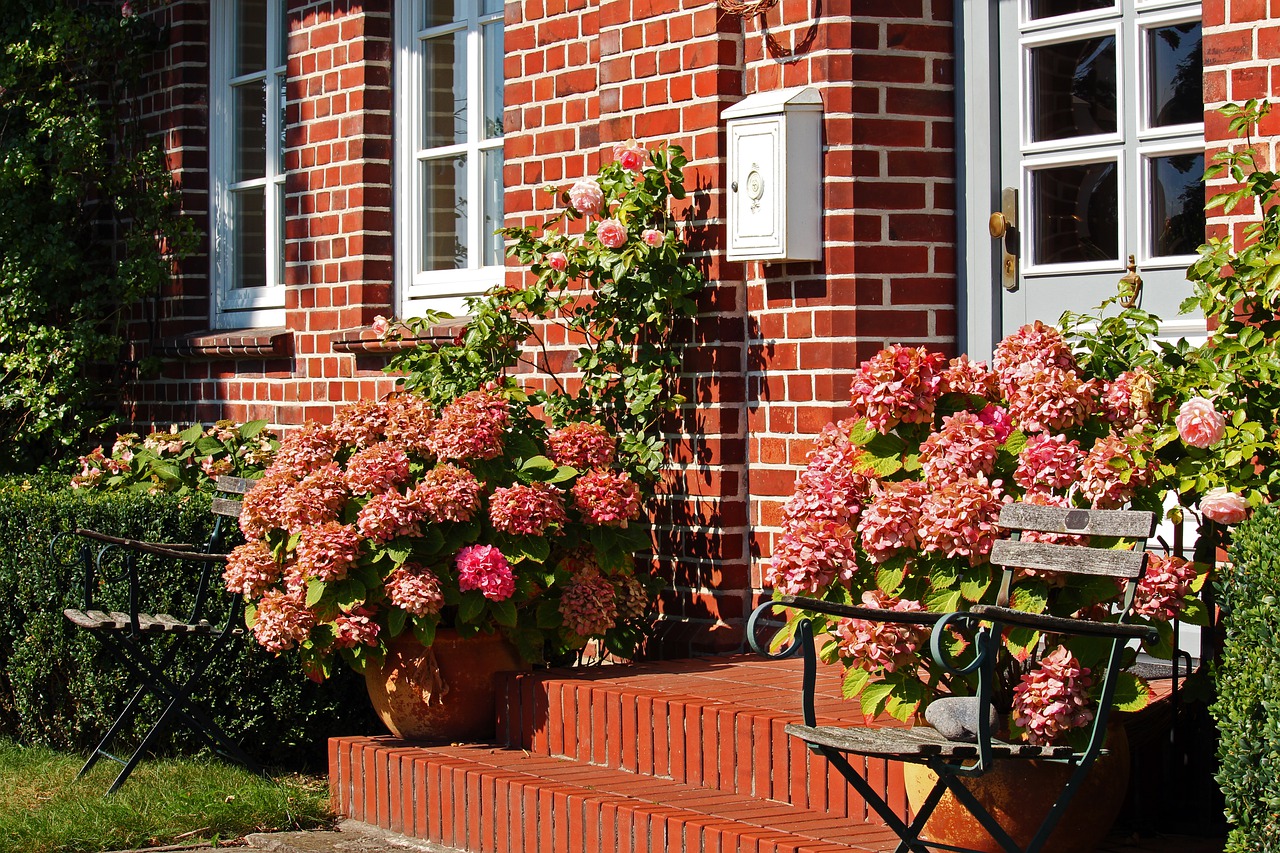 Use pots and containers
 Even if you have a very small front garden, or your house sits directly on to the street, you can still liven up the space and make your house inviting by adding pots and containers.
Try different sized pots, and for front garden style keep them looking the same e.g., all made from terracotta. It's amazing how many plants and greenery you can introduce through using pots which can really help to soften concrete and pavements. You can line pathways with pots and welcome visitors by adding fragrant smelling plants.
Work with colour themes
Link colours of planting in with the colours of your house. Think about the colours of your brickwork, window frames and front door. You may for example link in a slate coloured door or window frames to slate paths or loose slate chippings. Or you could link the colour of your blooms in with the colour of your front door.
Think about your surfaces
Surfaces such as gravel and chippings are often used in front garden landscaping because they are suitable for parking, but you can still grow plants around the edges. These loose materials will allow rainwater through and will prevent flooding. Laying a weed membrane underneath the loose material will prevent weeds growing through too.
Be careful not to use gravel or chippings right up to the front door, as you'll find bits trodden all through your house.
Create hideaways
Many people store wheelie bins and recycling boxes in their front garden, but to keep your front garden landscaping neat and tidy, you could consider hiding them away in some form of storage. A simple wooden unit will allow you easy access, and you can grow plants on the top or up the sides. Save money and do your bit for the environment by upcycling wooden planks or a pallet to make your own storage.
Use hanging baskets
Flowering hanging baskets can help with front garden landscaping, adding colour to the front of the house.
Choose flowers and plants that blend in well with your colour scheme, brick work and the colour of your front door. Choose blooms for the season. There are plenty that add an abundance of vibrant colour in the summer months including petunias, geraniums and begonias. In the winter months you can switch to plants such as violas, pansies and heathers which cope better with the colder weather and bloom through the season. 
Fit an artificial lawn
Recent front garden trends include using false grass to give a lovely looking lawn that stays looking lush throughout the year. Artificial grass looks good when used next to other types of surfaces such as gravel and paving.
Fake turf won't need mowing, feeding or watering leaving you to concentrate on planting and other front garden ideas.
For attractive front garden ideas trust Astro Warehouse for quality fake grass
Front garden ideas can be tricky, especially if you don't have much space, but with some thought you can inject colour and greenery to give you some stunning front garden style.
Astro Warehouse sell premium astro turf that looks amazingly realistic. Our quality products are supplied by the roll for the most competitive prices.
Need samples? Order yours here. We also have a range of installation guides to help you get started. Questions? Get in touch with our helpful team.