A semi-circular flower bed will create interest in any garden, adding a new dimension and giving a sense of space. Here we look at the benefits of a semi-circular flower bed and how to lay artificial grass around a flower bed.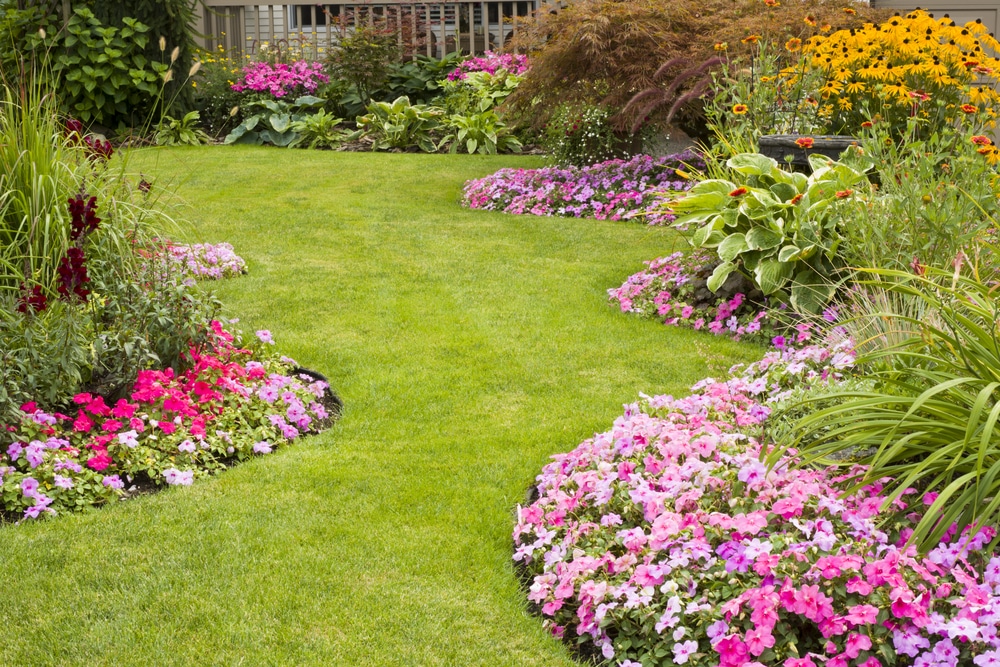 What are the benefits of a semi-circular flower bed?
A semi-circular flower bed can be used in a variety of spaces within a garden, such as next to the house, as a focal point in the middle of a lawn or around a feature such as a tree or ornamental structure.
Who doesn't enjoy sitting outside in the garden during the warmer months or with a patio heater when it's a bit colder? A semi-circular flower bed next to a seating area gives a welcome view if it's filled with a range of gorgeous, coloured blooms, and it offers a beautiful natural scent too.
How to design a semi-circular flower bed?
The amount of light and exposure that a semi-circular flower bed receives will determine which plants to plant it with. If your flower bed is mostly in the shade, you'll need to plant shrubs and flowers that will work well in these conditions, such as Hostas, whereas flower beds exposed to a lot of sun will need a hardy perennial or an annual which can cope with the strong light and heat, such as the Shasta daisy.
Think about the symmetry of your flower bed. You'll need to put your tallest flowers or plants towards the back, and plant progressively smaller as you get towards the front.
It's good to have an anchor element within your flower bed feature. This could be either a fairly large plant, or a decorative item such as a bird bath or large pot which draws the eye as a focal point. For a semi-circular flower bed, it's best to place your anchor element slightly off-centre.
How to lay artificial grass around a flower bed?
Artificial grass is popular amongst homeowners because it saves on so much work in the garden. It also stays looking fantastic when natural grass may wither in the summer or turn into a boggy mess in the winter.
Fake grass is a great addition to any garden if you like entertaining. It can cope with a high level of foot traffic, is comfortable, sturdy and, if you get a high quality false grass, will look natural and realistic too. Just be careful not to put anything hot like a BBQ or a patio heater directly on top of your fake turf… they should always be placed on a flat, paved surface for safety.
Installing a fake lawn around a flower bed may seem problematic, but with planning and care, it can be done. Simply follow the Astro Warehouse how-to guide for cutting artificial grass around curves.
Looking for quality artificial grass to fit around your flower bed? Choose Astro Warehouse.
Once you've designed and planted your semi-circular flower bed, you can then get to grips with installing your synthetic lawn.
Our artificial grass range is premium grade quality. It also comes by the roll so it can be supplied to you at unbeatable prices.
Need samples? Order yours here. We also have a range of installation guides to help you fit your fake grass on any surface. Questions? Get in touch with our helpful team.