Synthetic grass is beautiful, realistic, durable and low maintenance. Features in your garden such as flower beds, patios and trees may mean that you need false turf to be curved or shaped to fit around your landscaping. Here we explore how to cut artificial grass around curves and how to use a circle of artificial grass.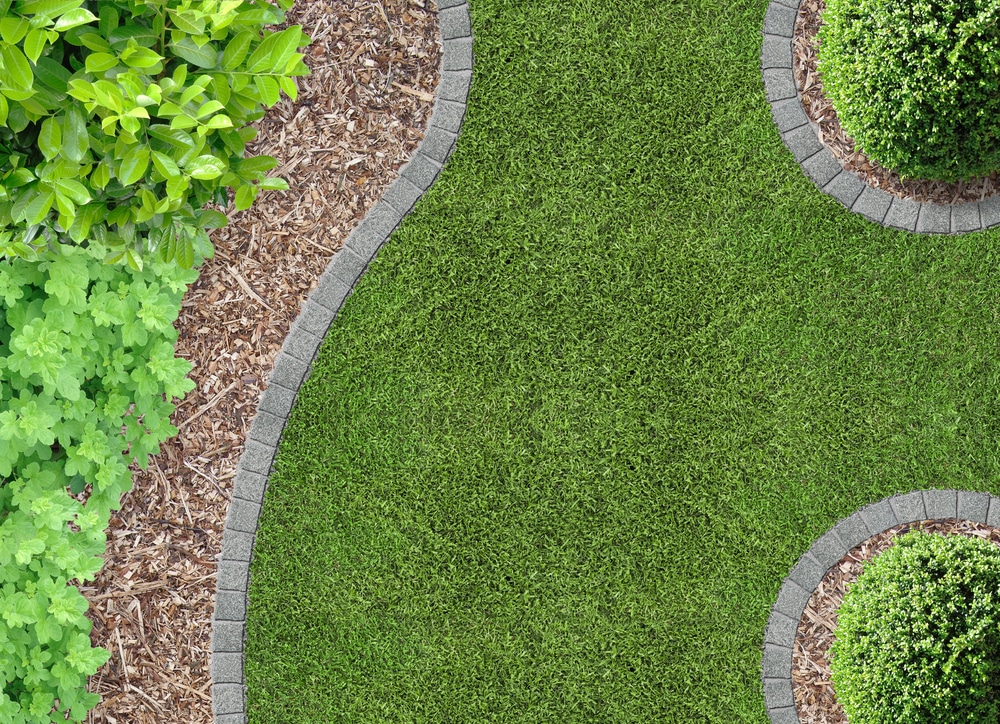 Why do you need to create curves and bends in artificial grass?
 You may need to create curves and bends in your artificial grass to fit in with your landscaping. Perhaps your garden has curved features such as flowerbeds, borders or even a curved swimming pool which means your fake grass needs to be shaped to fit in around them?
Maybe you have rounded patios, paths or hard landscaping and so your false lawn needs to be contoured to accommodate them?
Recent trends have seen smaller gardens use a circular lawn in the middle of the garden surrounded by paving, decking or shingle. Replacing this grass with a synthetic lawn would mean you'd need to cut and install an artificial grass circle.
So, now that we've discussed why we might need curves or bends in our gardens, we now need to look at how to cut curves in artificial grass.
How to cut artificial grass around curves
Make plans
As with all false grass installation, we always recommend spending some time making plans before you get your hands dirty! Map out exactly where the curved areas are in your garden.
After, this you can do the basic groundwork which includes excavating if you're installing fake turf on soil, and laying your sub-base. You can refer to our handy installation guides for detailed instructions on this.
Roll out the false grass
Roll out the fake grass and follow the same instructions for usual installation. It's easier to lay the grass before cutting around curves rather than cutting it first, as it gives a much neater finish.
As with a typical installation, make the necessary joins in the middle of your garden and trim to fit around the edges so that your false lawn stays in place when you are cutting around the curved sections.
Choose your tools
You'll need a sharp knife such as a Stanley knife to cut through the astro turf and the strong backing, making a clean, precise cut. The knife needs to be long enough to follow the edge of the curve and give your fake lawn a nice shape.
Cut slowly!
Now it's time to cut your curve or circle. Artificial grass needs to be cut slowly and little by little using your knife along the edging as your guide. You should aim to leave a very small gap of about 3mm between the edging of your feature or object and your synthetic grass. This size gap is small enough to be covered up the fake grass fibres but not big enough to be visible.
Secure the false grass
Once you have finished cutting the curves or artificial grass circle, you can continue with the usual installation process of securing your artificial turf.
If you're laying false grass on to concrete, this might mean securing with glue, or if you're installing on to soil, you will need to secure using glue, edging or galvanised nails. The final step is to brush through your artificial lawn with kiln dried sand to give protection and make the fibres of your grass stand up.
Quality false grass from Astro Warehouse, for every garden landscaping need
If you're wondering how to cut artificial grass around curves, follow our step by step process above and check out our installation guides to help you fit your false turf on any surface.
At Astro Warehouse, our artificial grass range is premium grade and comes by the roll at unbeatable prices.
Don't forget, you can order samples so that you can get a real feel for how our artificial grass will look around the curves and bends in your garden. Order yours here. If you've got any further questions or need more advice about cutting curves into artificial grass, you can get in touch with our helpful team.