Fake grass is becoming an increasingly popular option for those people who don't have the time or inclination to keep maintaining a lawn, but still want lovely looking lush green grass. With so many people choosing false turf, one of the frequent questions we get asked is "How does artificial grass stay in place?" It's a good question, and one that we will attempt to answer here.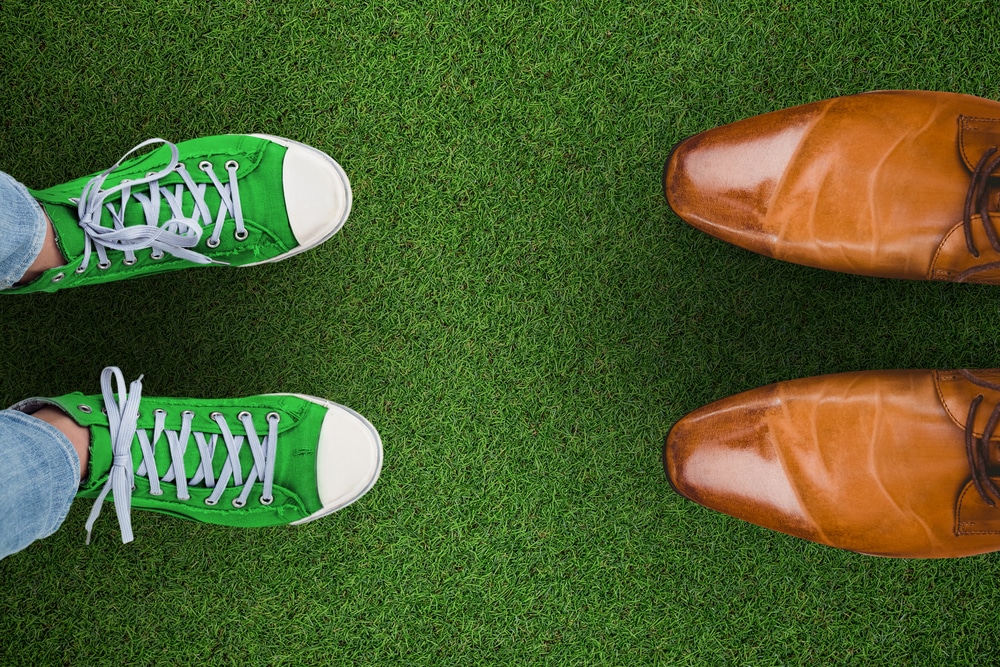 What's below the surface?
Answering that all important question, "How does artificial grass stay in place?" will firstly depend upon what surface onto which you are laying the synthetic grass. If you're intending to install fake grass on top of concrete, then your false grass will need slightly different treatment compared to if you're intending to lay it on top of soil.
Artificial Warehouse has put together this handy guide which you can refer to when installing artificial grass on various bases.
In all instances of fake grass installation, the first step after clearing the area is to lay shock pads directly on to your surface. This will add a bouncier finish.
Next, your pieces of fake turf are joined together using a special adhesive glue or joining tape so that you have one large piece of fake grass. This helps to keep your artificial grass in place, rather than having lots of individual pieces which can slip more easily.
In the final step of installation, the glue is applied to the perimeter of the underlay and the false turf is bonded to the underlay.
For concrete, decking or slabs or other hard surfaces, your fake grass will be more reliant on using glue to keep it stuck down to the sub-base. For softer sub-bases such as soil, mud or grass, there will also be other factors in addition to the glue which help to weigh your fake grass down and keep it in place.
How does artificial grass stay in place with edging?
Artificial grass edging can complete the look of your fake lawn, but can also help keep your artificial grass stay in place. There are plenty of options ranging from timber, paving or composite edging.
How does artificial grass stay in place with infill?
Once your artificial grass has been installed and the edges have been secured, we recommend infilling your new lawn with a kiln dried sand. This not only helps to reduce the chance of wrinkles appearing, but it also protects the artificial grass fibres to look their best. Kiln dried sand helps to keep weeds at bay and will also give weight to your artificial lawn, helping to keep it in place.
Wondering "How does artificial grass stay in place?"  Ask the experts at Astro Warehouse.
So, how does artificial grass stay in place? The short answer is that we recommend the use of different materials to keep your artificial grass secure. All sub-bases will require special adhesive glue and joining tape. Garden edging can help with some setups, and a quality infill which can be brushed into your fake turf at the end of installation will also help your fake grass stay in place too.
At Astro Warehouse, not only is our artificial grass range premium grade quality, it also comes by the roll and is supplied at unbeatable prices.
Need samples? Order yours here. We also have a range of installation guides to help you fit your fake grass on any surface. Questions? Get in touch with our helpful team.