Beautiful grass is a key feature for any garden or outdoor space. But there's often a dilemma over whether to opt for fake grass or natural grass. Natural grass when maintained and kept well looks stunning. Artificial grass needs little maintenance, is durable and won't fade or turn to mud. Here we try to answer the question "how much does artificial grass cost?" and compare the maintenance and cost of artificial grass vs real grass.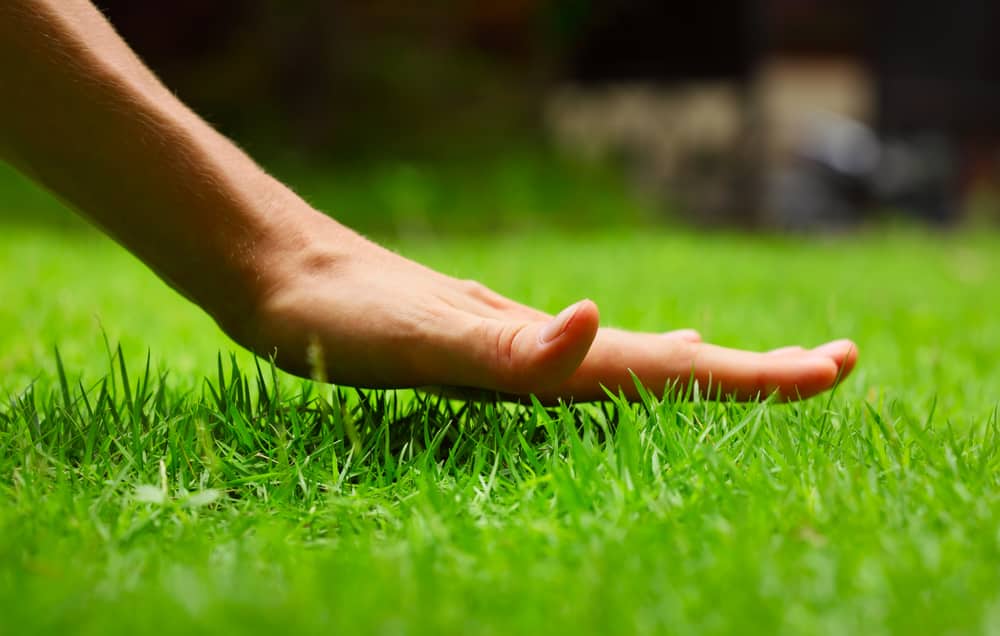 Natural grass and artificial grass installation cost
Artificial grass cost
When breaking down the costs for installing artificial grass, we are assuming that you will be replacing a natural lawn. You would first need to excavate the existing lawn. The costs involved will include the hire of a turf cutter, which could be around £75 for one day, and the hire of a skip to get rid of the turf, which on average is £200.
You'll need to buy some edging for your fake turf, either timber, plastic or galvanised steel. Costs for edging may vary according to the type of material you use, but as a guide could be around £5 per metre. You'll also need galvanised nails to hold your grass to the edging, the cost of which is around £5.
You'll need a weed barrier membrane to prevent weeds growing through. Astro Warehouse sell this competitively for 50p per square metre.
Next, you'll need a sub-base. We recommend a type 1 aggregate which on average costs £45 per bag.
We recommend using shock pad underlay to give a bouncier more natural finish to your artificial lawn. Astro Warehouse supply these by the sheet which measure 2 metres by 1 metre at a cost of £23.98 per sheet for 15mm thickness or £28.78 for 18mm thickness.
The cost of artificial grass itself will vary depending upon the type of grass you go for. As an example, our popular Astro Mars grass will cost £11.49 per square metre.
You may need some all-weather glue or joining tape to secure your fake grass. And finally, we recommend finishing your artificial turf by brushing through silica sand. This costs £6.32 per 25kg bag at Astro Warehouse.
So, for a 40 or 50 metre square lawn, artificial grass installation cost can work out in the region of £2,000.
Natural grass cost
If you're taking up an old lawn to replace with a natural one then you'll need to again hire a turf cutter and skip. Of course, this may not be necessary.
Similarly, you may want to install edging to your lawn so this would be at the same price as with the fake grass installation.
Weed killer and a weed membrane are the next outlays so you can be sure that weeds do not grow up through your new lawn.
Next, you'll need topsoil to give a flat and level lawn. As an average, this works out to around £60 per bulk bag.
Then you'll need to lay the rolls of turf. Again, as an average we can use the cost of £4 per square metre.
Finally, you may want to add on the costs of items to finish your lawn such as the hire of a grass roller to ensure your lawn is flat, and then products such as fertiliser and weed killer to keep your lawn looking good which are approximately £15 each.
As you can see, the cost to install natural grass based on the same size garden works out to be lower than fake grass at between £700 and £800.
Maintenance costs of artificial grass vs real grass
It's important to look beyond the initial installation costs to the longer term maintenance costs of fake and natural lawns.
Real grass will need a lot more looking after than artificial grass. You'll need various tools to keep it looking good, including a lawnmower and strimmer to keep it in trim, and a hose or sprinkler watering system to keep your grass hydrated. You may also want to invest in an aerator to ensure your grass stays healthy.
You'll also need weed killer and fertilisers to keep your lawn looking its best, and will need to factor in the cost of running the lawn mower and strimmer.
In comparison, an artificial lawn needs very little maintenance. You will only be required to remove debris from the surface and to give it a regular brush with a plastic broom.
Finally, we would say that your time is valuable! You will spend far more time attending to a real lawn than you would to a fake lawn, and this should be factored in when weighing up the cost of artificial grass vs real grass.
Weighing up the cost of artificial grass vs real grass? Let Astro Warehouse show you the savings!
Whilst the artificial grass installation cost is higher than natural grass, the longer term costs maintaining and looking after natural turf soon add up. You can't place a value on your time, but this is something else that you should consider when looking for the perfect lawn.
At Astro Warehouse, we aim to keep our costs as low as possible so that your installation is as economical as possible. Check out our quality and realistic looking grass ranges for inspiration.
We provide installation guides to help you with whatever surface you intend to lay your fake grass on.
Need samples? Order yours here. For any help or advice, get in touch with our friendly team.