Ever thought of installing artificial grass on a balcony? It's a more popular idea than you may think! Whether you live in a flat or apartment and your balcony is your only outdoor space, or you have a balcony leading off a bedroom, here's why artificial grass could be the way forward when it comes to creating a welcoming outdoor space.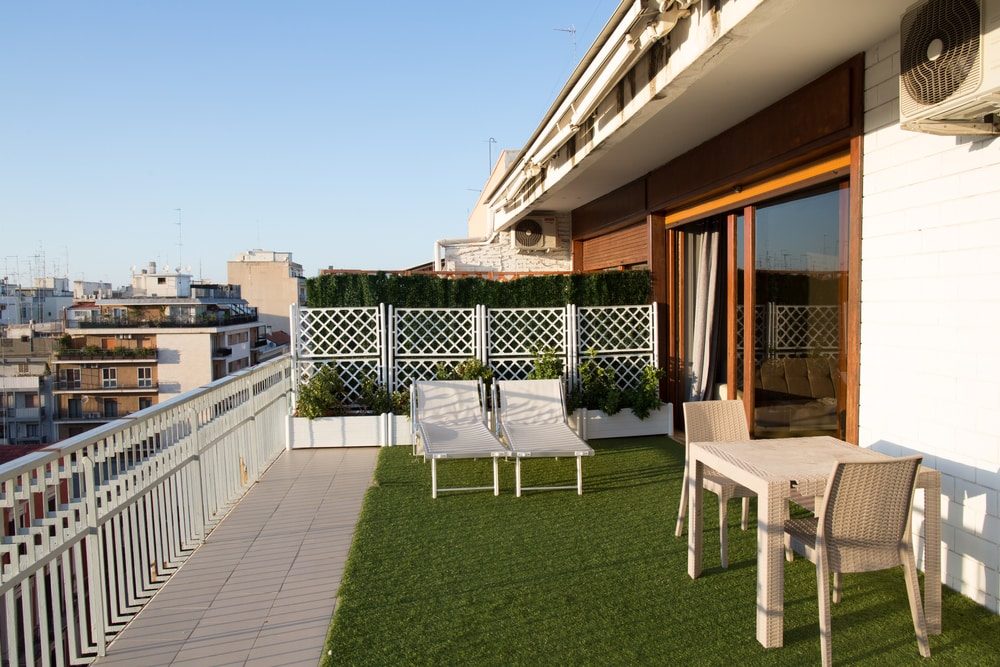 Why create an artificial grass balcony?
 There are so many good reasons why fake grass is great for a balcony.
 Firstly, synthetic grass helps to create a relaxing and natural-looking environment. If you live in an urban area, fake grass will help instil a soothing and more natural setting than a cold, stone floor. Fake grass for the balcony will provide colour and interest, and make it appear more welcoming for you and your guests.
Secondly, growing real grass on a balcony is not easy, and a natural lawn is certainly not straightforward to care for in such an enclosed space. This is why astro turf is perfect for a balcony setting.
It can be quickly and easily installed on any type of surface, and unlike real grass, doesn't need any maintenance other than a regular brush and clean.
An artificial grass balcony is perfect for entertaining guests, or just for relaxing with a good book and cup or glass of something tempting.
The great thing about fake grass is that, when installed correctly, it has excellent drainage properties. So you can rest easy knowing that rainfall and any spillages will be soaked up without issue. Even heavy rainfall should not cause your artificial grass balcony to flood.
Lastly, synthetic grass is soft and comfortable to sit on, so even if you don't have too much room for seating, you can still enjoy relaxing on your fake grass balcony. Just throw down a picnic blanket, grab the cool box, and enjoy! 
How can a balcony be transformed with artificial grass?
So, we've established that artificial grass will give a natural, welcoming feel to your outside space with minimal maintenance. Now let's look at a few ideas to think about when using fake grass for a balcony.
Size of balcony
If you have a small area, you may want to use false grass to cover the complete surface of your balcony. If however you have a larger space, you may wish to consider using artificial turf on a zoned basis, perhaps tiling or decking around it. Borders using pebbles, shingle, tiles or brickwork can also look effective surrounding astro turf on a balcony.
Purpose
If your balcony will be used mostly for entertaining or socialising, it could work well to create a comfortable seating or dining zone with your fake lawn. Just remember to keep patio heaters and barbeques well away from the artificial grass, as they don't tend to get along too well!
If on the other hand you will be using your balcony as your own peaceful retreat, then why not accessorise with plenty of pots, planting and soft lighting? Some people even use artificial grass on a solid wall of their balcony to create the ultimate green oasis.
Create an artificial grass balcony with quality fake grass from Astro Warehouse
Looking for astro turf to use on a balcony? Astro Warehouse has all you need. From a premium range of artificial grass products suitable for any type of surface, to all sorts of installation accessories, you won't need to go anywhere else.
Need advice on choosing the right fake grass for a balcony? Get in touch with our knowledgeable team.