Did you know that it's possible to use artificial grass on walls? As well as using it as a lawn and inside the home, there are more creative uses. Join us as we explore a range of ways to use artificial grass for walls.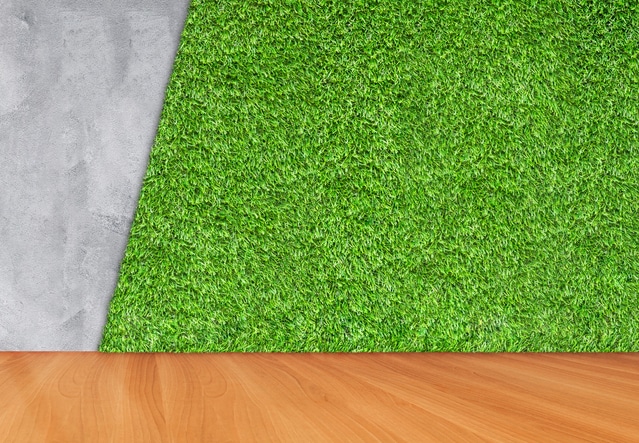 Artificial grass for garden walls
Garden walls can be covered in synthetic turf, as well as fences and gates. What better way to brighten up a garden and create a wow factor outdoor space? It's also a great way to hide a multitude of sins.
Artificial grass on garden walls gives the impression of climbing plants or a living wall, especially if you use a deeper pile. Installing it is a breeze too. There are fixings that can be used to keep the fake grass on the wall securely, whilst being hidden from view. So your stunning garden feature will look completely natural, without all the hassle of watering, weeding or maintenance.
Fake grass for sheds and outbuildings
Imagine a shed covered in fake grass, what a spectacular feature! Even just one wall of a shed fitted with artificial grass can make a splash.
You could use artificial grass off-cuts to cover part of a shed or outbuilding too, which will make good use of any leftovers.
Artificial grass for conservatory walls
A conservatory or sun room overlooking the garden is the ideal place to use artificial grass on walls. Consider it an extension of your outdoor space and go ahead and make it lush green. A living wall that doesn't need watering is the ideal compromise, and fake grass is the perfect solution.
Synthetic grass for playroom walls
If you're looking for a fun way to bring a child's playroom or nursery to life, try fitting fake grass to the walls. Colourful and vibrant, synthetic grass could make a fantastic feature wall that kids will love.
Add some ladybird, butterfly and flower motifs, and the wall becomes all the more interesting, as well as educational.
Fake grass for office walls
Adding greenery to a working environment is known to boost morale and help promote feelings of well-being. Using synthetic grass for walls in offices is the ideal way to create a living wall without the need for any maintenance or watering.
A brightly coloured wall with natural texture will also create a point of interest for visitors. Meetings will never be the same!
Looking to buy artificial grass for walls? Check out the Astro Warehouse range.
If you're convinced that artificial grass for walls is a great idea, why not order some samples from Astro Warehouse to see which fake grass product will best suit your application? Order yours here.
At Astro Warehouse, our artificial grass range is premium grade quality. It comes by the roll and is supplied at unbeatable prices.
Our installation guides will help you fit your fake grass on any surface, from decking and concrete to natural grass.
If you need any advice, you are welcome to get in touch with our helpful team.