As spring approaches, it's time to start getting the garden back up to scratch. What areas need improving? Does anything need replacing? What theme do you want for your garden in the months to come? All of this will influence your garden DIY projects. Prepare to be inspired as we explore some simple DIY spring garden ideas, ranging from upcycling pots to installing fake grass.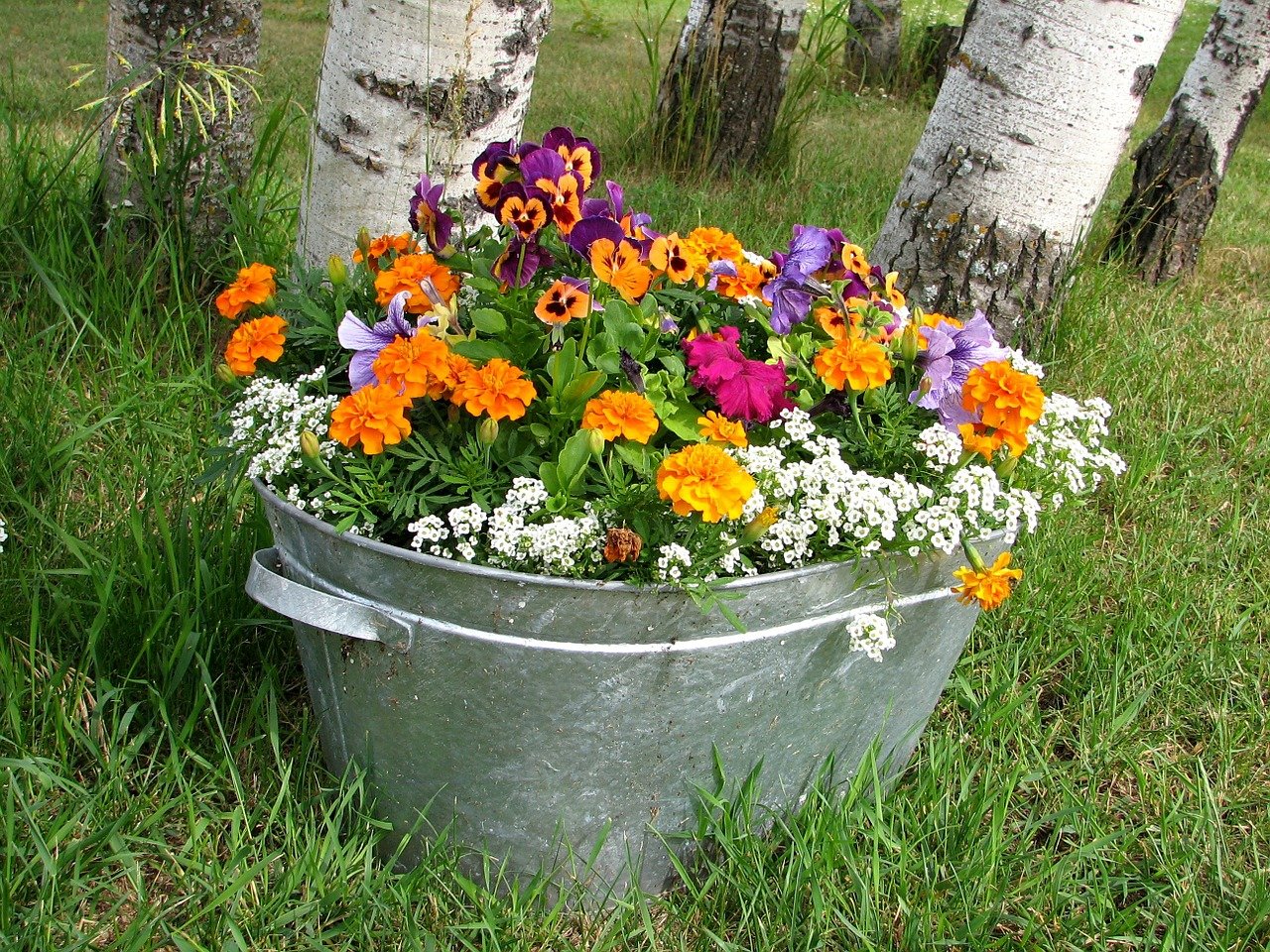 1.             Replace planters or pots
Whether you're looking to replace old pots or introduce new ones, you can never have too many! Rather than buying new, try and upcycle what you have. Brilliant DIY spring garden ideas include making use of practically anything that's been discarded. Try using old chipped teapots or milk jugs for smaller plants, and transform old sinks or drawers into quirky planters for larger specimens. You could even use an old welly boot!
Feeling adventurous? Why not make your own pots? There are lots of guides online for making trendy cement pots, or wooden planters out of old decking. Failing that, you could decorate your existing pots. Try random designs, or keep to a colour theme that fits with the look of your garden.
2.             Encourage the birds
Now is the time to encourage birds into your garden as they search for suitable places to nest.
Research shows that listening to the sound of birdsong can lower stress, fatigue and anxiety. So, whether it's building your own bird box, or adding a bird bath or bird feeder to your garden, there are plenty of reasons to focus on something bird related for your DIY spring garden ideas!
Building a birdbox doesn't have to be complicated, this simple guide from RSPB is easy to follow.
Making your own DIY bird garden feeder can be as simple or as complicated as you like using various materials. For a straightforward DIY spring garden idea, simply recycle cleaned out tin cans, then hang them in your garden. Genius!
3.             Make your own water butt
There are so many advantages to having a water butt in your garden. Firstly, they cut water usage, which is good for the environment and your wallet. Secondly, certain plants, such as camellias and rhododendrons, benefit from the more acidic quality of rainwater as opposed to tap water. Such advantages mean that making your own water butt makes a fantastic DIY spring garden idea.
Plastic is the best material to use to keep the water sealed in. Try using an old food storage bin or dustbin. Give it a good clean, preferably a steam clean, to remove any residue that could cause fungus to grow.
It's best to add a tap to your water butt so that you can access the rainwater more easily. Water butt tap kits can be found in any garden centre, and you can seal the tap into the bottom of your water butt using a special aquatic sealant.
4.             Create a garden pond
More DIY spring garden ideas include building your own pond. Adding a water feature into your garden will attract wildlife, as well as providing a peaceful and calming haven to enjoy.
The size and structure of your pond will vary according to the layout of your garden but, in its simplest form, you will need to dig a hole, cover the base with a good quality pond liner, and then hide the edges with rocks and pebbles. If you don't fancy digging, why not make a barrel pond? Any watertight tub will do, and you can build up some rocks or stones around it to bed it into its surroundings.
Whatever type of pond you're creating, be sure to add some aquatic plants to keep the water clear and, when filling, be sure to add a bucketful of water from a living pond give the new habitat a jump start.
5.             Install artificial grass
Perhaps you've decided you want to spend more time relaxing in your garden this summer, and less time maintaining it? Or maybe you want your lawn to look fantastic all year round without it turning brown and dry when it's hot, or a muddy mess when it rains?
Whatever your reason, installing astro turf is another key DIY spring garden idea. Laying your own fake grass is easy to do, especially when you follow the installation guides from Astro Warehouse. Choose the type of grass for your garden, buy the materials to fix the grass to the surface including glue and silica sand, and you're ready to go.
Looking to transform your garden? Look to Astro Warehouse.
DIY spring garden ideas such as installing your own synthetic grass will certainly give you many benefits for years to come. Fake grass looks fabulous, it's durable and requires very little maintenance. Artificial turf is easy to fit and, at Astro Warehouse, we supply everything you need all in one place.
Not only is our artificial grass range premium grade quality, it also comes by the roll and is supplied at unbeatable prices.
Need samples? Order yours here. We also have a range of installation guides to help you fit your fake grass on any surface. Questions? Get in touch with our helpful team.