A garden should be a place where you can relax and enjoy being outside. But if your outdoor space is overgrown, full of weeds or out of control, it can become an unwelcoming and stressful place. Installing an artificial grass garden reduces the level of maintenance, whilst giving a clean and attractive look throughout the entire year. Here we look at some of the best artificial grass garden ideas to provide you with inspiration.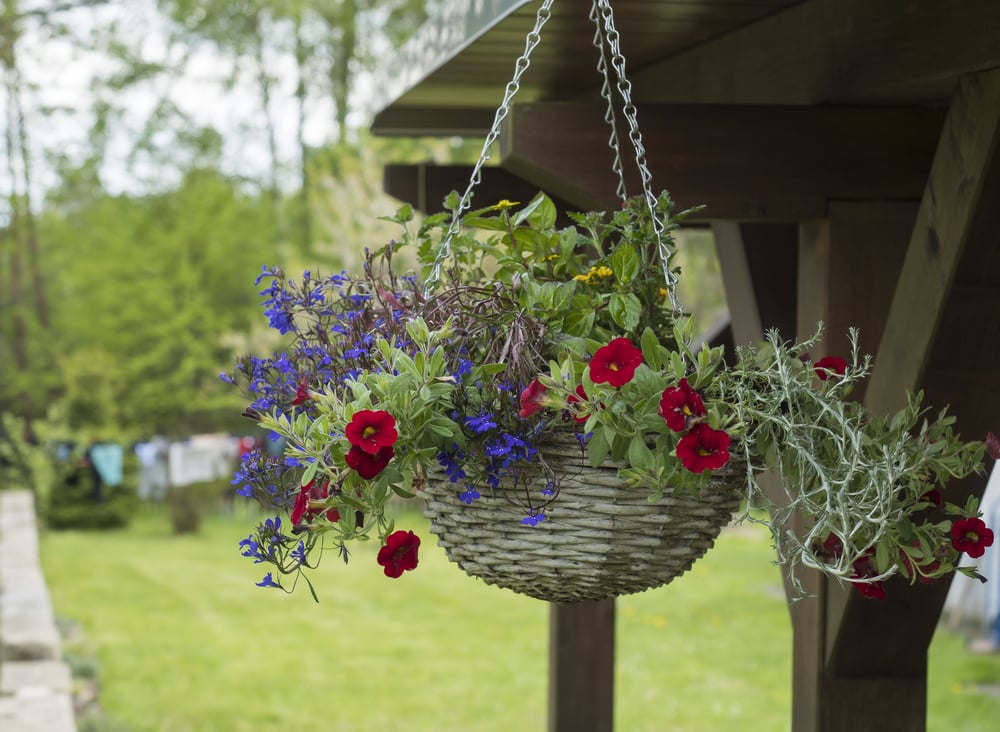 1. Flower beds
Most of us want flowers or shrubs in our garden to give some colour. When planning your artificial grass garden, you can sketch out some plans showing where you want to leave space for flower beds.
Leave about one metre in your borders between the edge of the artificial grass and the back of the flower bed, as this will allow for a variety of plants and shrubs of differing heights and sizes.
Raised beds, along with pots and planters, are a good option to create interest and give a different perspective to a specific area.
2. Wooden structures
Wooden structures such as a pergola, gazebo or summer house within an artificial grass garden help to break up green areas. They offer a basic functionality by providing shade on a hot day, and give a welcome area of quiet and calm in which to read or snooze.
Wooden structures are available in various sizes, making them an easy choice for most sized gardens. Decorate them by growing flowering climbers such as honeysuckle or clematis around them, or painting to fit in with the rest of your garden colour scheme.
3. Water features
A water feature can be as simple as a small pond or fountain, or as elaborate as a free-flowing series of waterfalls. Water features can transform a fake grass garden, providing a wonderful focal point.
Water features create a feeling of tranquillity, so they work well when hidden away, perhaps with some seating to inspire a sense of calm and peace.
4. Raised area
Synthetic grass garden ideas include introducing different levels to give a different perspective. They can completely transform the look of a garden.
Adding a raised decking or patio area is a brilliant way to break up an artificial grass garden, as well as creating a new area on which to socialise and dine outside.
5. Artificial grass garden play area
A children's play area within an artificial grass garden is a good idea, because fake turf is durable and will withstand a lot of foot traffic.
False grass makes a perfect carpet for a play area because it's soft and cushions any trips and falls. No matter how many children are in the garden, or whatever the weather, you can be sure that fake turf will keep this a mud-free zone, which means no dirt being trodden into your house.
For an artificial grass garden, be sure to use a good quality fake grass!
Whatever your plans for your fake grass garden, we suggest planning is key! Draw up a rough plan of how you'd like your garden to look, and sketch in the different zones, borders and possible features.
Another important point is to be sure to use a high quality artificial grass, as this will affect how your garden looks overall, and how long the lawn will last.
At Astro Warehouse, our artificial grass range is premium grade quality and also comes by the roll so it can be supplied to you at unbeatable prices. Our grass ranges come with an 8 year warranty. Samples?  Order yours here.
Don't forget to check out our installation guides for help fitting false grass on any type of surface.
Questions? Get in touch with our expert team.