There is so much to love about synthetic grass, not least the fact there is no need for watering, mowing or weeding. But there's one section of the community that especially appreciates fake grass, and that's pet owners. Read on to learn why, as a pet owner, you discover a wealth of benefits by installing a fake lawn in your garden.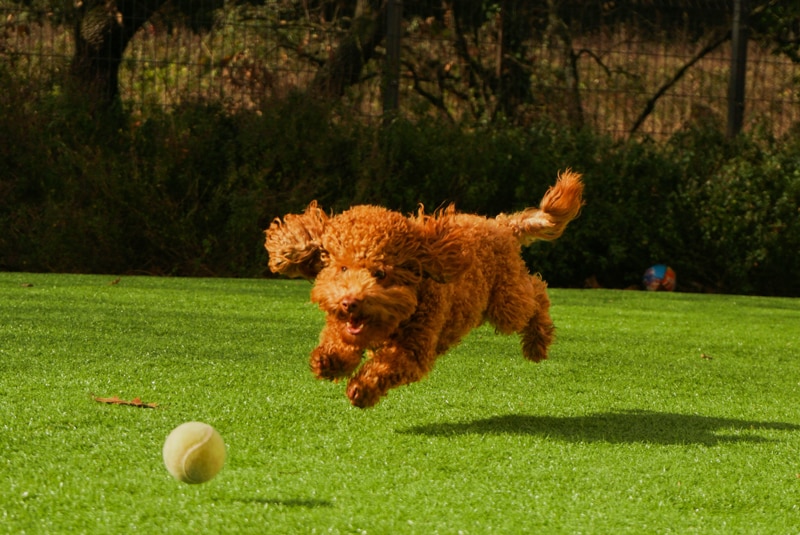 According to the PDSA's latest PAW Report, out of 10,000 adults surveyed in the UK, 24 per cent own a cat, and 26 per cent are dog owners. Those figures equate to some 9.9 million owned dogs, and 10.9 million owned cats. That's a lot of pets!
There are lots of plus sides to having a pet, from healthy walks with your dog to feeling less stressed and of course, enjoying the company of a faithful friend. There is however a downside. If your garden is your pride and joy, you'll know what we're talking about here. From muddy paw prints to burying, digging and other types of mess, it can be a touch frustrating when you adore both your outdoor space, and your four-legged friend.
The good news is that there is a simple way to create a pet-friendly garden, and that is by installing an imitation lawn. Let's take a closer look at some of the key reasons pet owners like you love synthetic grass.
1.     Synthetic grass is a dig-free zone
There's no doubt about it, dogs love to dig. And cats can be pretty partial to a spot of clawing too. Thankfully, providing you follow the correct installation guidelines for your artificial lawn, then your pet quite simply won't be able to dig it up.
Quality artificial grass roll comes with a thick, double-layered latex backing and, on the grass side, dense pile made from robust fibres. Plus, if you use a sand infill which we highly recommend, this will prevent even the sharpest claws from getting through the pile down to the backing layer. Ensuring the lawn is well-fixed around the edges will also keep it safe from digging pets. We suggest a plastic or timber edging so you can get the lawn fixed nice and securely with tacks.
2.     No more muddy footprints
There's nothing worse than muddy footprints over a freshly cleaned floor. As much as you love your pet, the last thing you want is your gleaming flooring all messed up. A particular problem in wet weather, mud goes hand in hand with a natural lawn. And boy to dogs love to play in the mud!
When you lay synthetic grass over soil or natural grass, the base is covered with a layer of aggregate, as well as a weed membrane, and then a shock pad underlay, all before the actual fake grass itself is fitted. This totally excludes the risk of your pet getting its paws covered in mud. So you can let them out into the garden, any time of year, safe in the knowledge that your lovely clean floors will stay that way!
3.     Free from chemicals
Do you worry that the weed killer or fertiliser you are using on your natural lawn could be hazardous to your pets? Most pet owners harbour this concern, and so end up with a lawn that's full of weeds, and bald patches.
With fake grass, the good news is that you'll never have to use weed killer or fertiliser again. Not just a benefit for your pets, but also a massive advantage for the environment. What's more, the synthetic grass we sell here at Astro Warehouse is free from heavy metals and chemicals, which means it's non-toxic and therefore safe for all the family, including the furrier members.
4.     Pets love synthetic grass!
You want nothing more for your pet than for it to be happy. So you'll be pleased to learn that pets love the feel of artificial grass. Soft, well-cushioned and a great deal more pleasant to walk and play on than a muddy, patchy natural lawn, dogs and cats alike adore the comfort associated with synthetic grass.
Pet-friendly artificial grass roll from Astro Warehouse
Looking to buy artificial grass by the roll to create a pet-friendly garden? Take a look at what Astro Warehouse has to offer. Not only do all our synthetic grass ranges come with a lowest-cost, highest-quality promise, they also come with an 8-year guarantee, plus all you need to fit and maintain your new fake lawn.
Browse our artificial grass ranges, have a read of our installation guides, or get in touch for all the helpful guidance you need from our specialist team.