If you run a children's nursery, you'll know the importance of providing a safe surface on which the kids in your care can play. You'll also be very much aware of all the rules and regulations around nursery gardens, so will be looking for something that ticks all the boxes in terms of safety, as well as enjoyment. Something that fits the bill in every way for the nursery garden is artificial grass.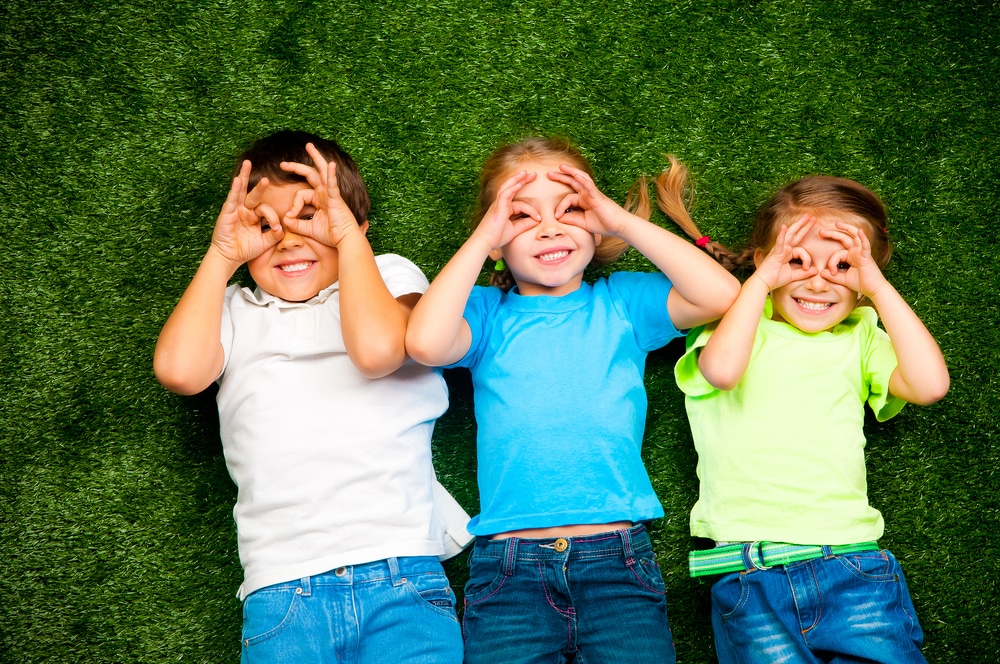 Making sure your nursery garden is compliant with health and safety regulations is of course vital, but it's just as important to make sure the children can have fun and learn in a safe environment. This is precisely what a synthetic lawn will give you.
A safe surface
Children love a spot of rough and tumble as they play. Of course, you'll naturally be worried about how this will lead to bruises and bumps. So you'll be looking for a surface to allow them to play safely. A natural lawn is one option, but you'll find it will be uneven, as well as muddy after rain, which can make it a trip and slip hazard.
A synthetic lawn on the other hand will be laid on even terrain, so there will be less likelihood of trips and falls. It will also be fitted on top of shock pad underlay, making it soft and springy. A cushioned surface like this will help to reduce the impact caused by a fall.
A mess-free surface
The last thing parents want is their children coming home from nursery with their clothes dirty with mud or grass stains. But they won't want their children to miss out on vital play either.
A fake lawn will provide a clean surface on which children can play. Mud-free, stain-free and generally mess-free, synthetic grass provides the softness of grass, without all the mess. Plus for the adults caring for the kids, there will be no muddy shoes! As long as you regularly brush and rinse your nursery garden fake lawn, and remove any debris such as fallen leaves, it will stay mess-free all year round.
An allergy-free surface
The NHS says that around a fifth of the UK population suffers from hay fever, which can start in early childhood. Natural grass is one of the biggest allergens, so finding an alternative for children to play on will always help in the fight against allergies. After all, you don't want the kids in your care to be sneezing repetitively or suffering from a runny or stuffy nose, watering eyes and coughing when they should be having fun.
Artificial grass is the answer to allergy symptoms caused by natural grass. With no pollen to worry about, children can play to their hearts' content, without a runny nose in sight.
A durable surface
Good quality fake grass that's properly installed and fitted with underlay will stand the test of high footfall over time. Providing you follow a few simple maintenance guidelines, your nursery garden artificial lawn will stand up to constant play, and should last more than two decades.
Synthetic grass is also the ideal surround for play equipment. Compared to natural grass which can become compacted over time, fake grass with its resilient fibres will withstand the weight of heavy structures such as climbing frames.
A colourful surface
There's no doubt about it, kids love colour. Any nursery garden that incorporates vibrant hues will engage children. Natural grass tends to lose its vibrancy over time, especially in the cooler or wetter months where it turn yellow or muddy brown. Artificial grass, however, will stay looking bright and alluring all year round.
Kit your nursery garden out with artificial grass from Astro Warehouse
If you are keen to improve the look, safety and appeal of your nursery garden, an artificial lawn could prove the right move.
At Astro Warehouse, our artificial grass range is premium grade quality and also comes by the roll so it can be supplied to you at unbeatable prices. Samples?  Order yours here.
Don't forget to check out our installation guides for help fitting fake grass on any type of surface.
Questions? Get in touch with our expert team.