There are many benefits of synthetic grass. From low-maintenance to reduced costs, environmental factors and the fact that it maintains its attractive appeal year-round (and doesn't ever get muddy), there really is a lot to appreciate. But when it comes to laying your astro turf garden, what is the best base to use? Let's explore the various surfaces on which artificial grass can be laid, with advice on how best to approach the vital preparation stages.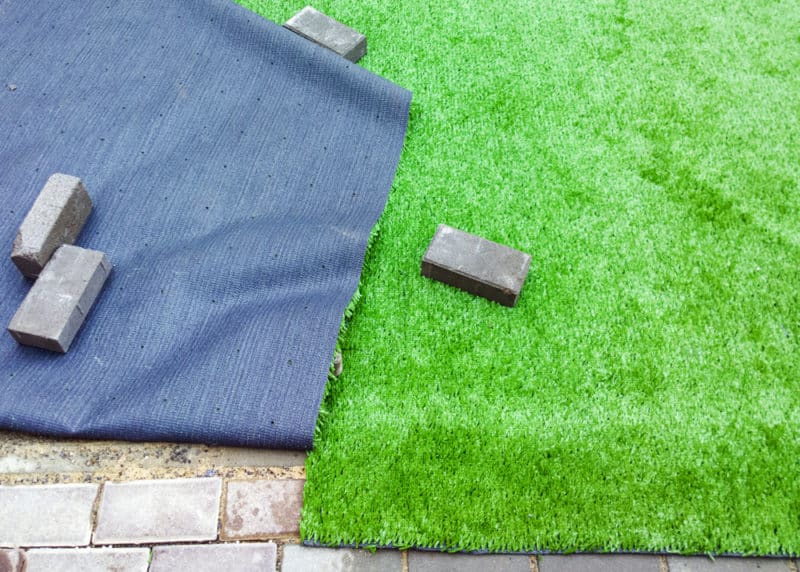 The major advantage with artificial grass as opposed to natural turf is that it can be laid on pretty much any surface, and you won't need to factor things in such as availability of light and airflow.
Whilst there is not a 'best' base as such on which to lay synthetic grass, some will be easier and therefore less costly than others. But never think there is any limit to what can be achieved, because even if you have a wooden deck, an ageing patio or a plot of mud, anything is possible. After all, flexibility is one of the key benefits of synthetic grass.
What to consider when laying artificial grass on a hard surface?
When fitting fake grass on a hard surface, such as concrete, paving slabs, stones or tiles, the main thing you are going to need to think about is drainage. What you really don't want is puddles of water forming on your new astro turf garden.
So, be sure to check the drainage situation ahead of getting started. This is as easy as hosing the area down to see whether puddles form. If they do, the solution is simple. Just drill a few drainage holes into the surface in the areas where the puddles are forming, then fill them with shingle.
Hard surfaces don't need as much preparation as the likes of mud, natural grass or gravel. Just be sure to clear them of debris, and fill any gaps between paving slabs or tiles with sand so that the fake grass doesn't sag. Larger gaps may need cementing. Also make certain that any weeds growing up between gaps are eliminated with a strong weed killer.
If you are fitting fake turf over wooden decking, just make sure that any rotting or softening areas of the wood are replaced, and that the entire deck is given a wood stain treatment so that you are starting with a robust base.
Otherwise, you can generally go straight in with your shock pad underlay ahead of fitting the fake grass on top. Underlay is important for hard surfaces. It will add a feeling of bounce and will make the lawn feel more natural to walk on, and much safer for children and pets to play on.
Check out our installation guides for hard surfaces:
How to lay synthetic grass on a soft surface or gravel?
There is a bit more preparation involved in laying fake grass on surfaces such as mud, soil or natural grass, and also on gravel. All these surfaces will need a surface preparation stage.
As with hard surfaces, you'll need to ensure adequate drainage, and it's also vital to make certain that weeds are completely eliminated before you start.
For soil-based surfaces and natural grass, you'll need to remove the top layer. Take up the natural grass and topsoil, remove dead vegetation and level out the area. You are aiming for the flattest surface possible, bearing in mind that any ripples will show up once the fake grass is laid over the top. Once this is achieved, you can fit your weed membrane, ahead of filling the area with type 1 aggregate. A layer of sharp sand will need to go over the top of this.
If you have a gravel surface, then you can leave it in place. Be sure to remove the weeds, and then use a wacker plate to compact the gravel. Over the top of this goes a layer of sharp sand.
Softer areas will benefit from a surround which can be metal or wood. This will make it easier to plant borders to set off your astro turf garden.
Check out our installation guides for soft surfaces and gravel:
Learn more about the benefits of synthetic grass with help from Astro Warehouse
Looking for budget artificial grass? UK supplier Astro Warehouse has all you need in terms of quality and value. Check out our fake grass ranges which offer outstanding quality at budget rates, together with our range of installation materials which provide all you need for the full fake grass fitting job.
Need advice on choosing the right product for your needs? Our helpful experts are on hand, so please feel free to get in touch.