Having your own putting green is a brilliant way to keep up with your golf practice. Just a few steps away from your house means it's an easy way to relax, and is a great option now that more people are working from home. Here we compare the benefits of a natural grass putting green vs an artificial putting green.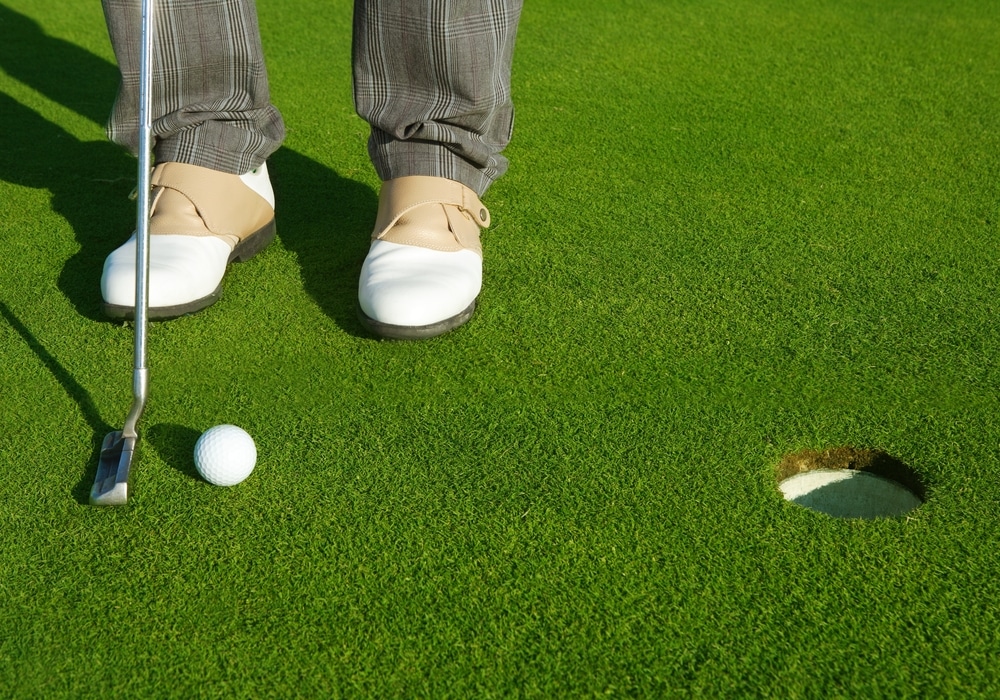 Natural grass putting green
 A natural grass putting green may look good, but it needs a lot of work and attention to make sure that it is clean and even.
A putting green has blades of grass of approximately 14mm in height, which means you'll have your work cut out trying to ensure this height is the same throughout. You'll also have to spend time maintaining the grass to ensure it is not marred by weeds, which will negatively affect putting.
Drainage on a putting green is essential, as there's no way you can practice or play on a waterlogged green. You will need to properly aerate your natural grass to ensure that your putting green doesn't puddle.
Artificial putting green
A huge advantage of having an artificial putting green is that once your high quality artificial grass is installed, it will be immediately ready to start practising your putting. You won't have to wait until the grass is the perfect length or for the correct conditions before you start play.
With an artificial green you also won't have to worry about seeding, mowing, weeding or aerating the fake grass.
Many top quality artificial grass ranges look incredibly realistic, with designs specifically suitable for putting practice. At Astro Warehouse, the Astro Pluto fake turf has been designed with a shorter pile of 15mm to allow a smooth roll of the golf ball.
Using several different colour tones, and engineered to help keep the pile staying upright all year, a high quality synthetic grass will be durable and hard wearing which will allow for many hours of golf putting practice. Your artificial putting green will last for decades, with the lowest level of maintenance. At Astro Warehouse, the Astro Pluto range comes with an 8-year warranty.
Another benefit of an artificial putting green is that the false grass is completely permeable, allowing for easy drainage even after the heaviest downpours. You can rest easy knowing that if installed correctly, your putting green won't become waterlogged or risk having pools of water sitting on it.
Realise the benefits of an artificial putting green, with a high quality fake grass from Astro Warehouse
An artificial putting green has clear benefits over a natural putting green. A good quality fake grass looks amazingly realistic and needs very little maintenance. Once your artificial putting green is installed, you can enjoy your golf putting practice straight away.
An artificial green will allow the ball to roll evenly and has fantastic drainage so that rainwater can flow through naturally and quickly.
At Astro Warehouse, our artificial grass range is premium grade quality and also comes by the roll so it can be supplied to you at unbeatable prices. Samples?  Order yours here.
Don't forget to check out our installation guides for help fitting false grass on any type of surface.
Questions? Get in touch with our expert team.