Fake grass has never been more popular, especially with so many people spending longer at home these days. But whilst there are many benefits to enjoy when it comes to synthetic grass, you're always going to hear the other side of the argument from those who are pro-living lawn. So let's pose the question then: imitation lawn versus live grass, which is the better choice?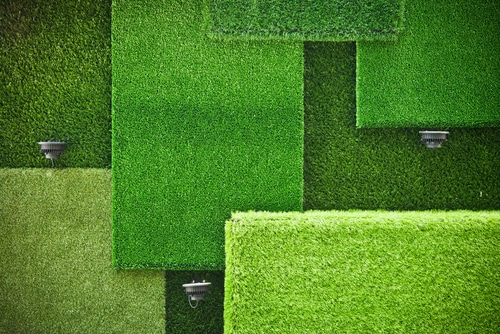 There's actually quite a bit to think about when comparing the merits of fake grass versus a natural lawn. It all boils down to what matters most to the homeowner, and the rest of the family of course. From maintenance and appearance through to helping wildlife, there is much to consider. A few leading questions may help us get to the bottom of what matters most.
Do you have plenty of time to maintain your lawn?
For those with time on their hands, and for people who enjoy spending lots of time working on their gardens, a natural lawn could prove just the project they're looking for.
There's no mistaking that a real lawn commands a great deal of care. From mowing, strimming and and weeding, to watering and re-seeding those patchy parts, it's an ongoing labour of love that's certainly not for everyone. Precisely why, for those who are time-strapped, or simply prefer to spend their time in the garden enjoying it rather than working on it, an astro turf garden can prove more preferable.
Are you a nature lover?
Fake grass isn't everyone's first choice, especially those who are nature lovers. Natural lawns help to purify the air and improve its quality. In addition, real grass traps carbon dioxide, reduces erosion and improves soil quality by biodegrading organic compounds. It's also home to wildflowers such as dandelions, daisies and clover, which of course are vital pollinator plants.
However, natural grass does need a lot of watering in the dryer months of the year, and it needs feeding too. Both of these can put their own strain on the natural environment.
The compromise? For those who appreciate nature and want to help preserve it, but who are loathe to consume large volumes of water, and perhaps just don't have the time to care for a natural lawn, an astro turf garden surrounded by blooming border and bedding plants ticks all the boxes. Offering the best of both worlds, you get a low-maintenance, attractive lawn that doesn't need watering or feeding, plus more time and money to spend on beautiful borders that are bountiful for pollinators and do all the eco-friendly stuff too.
Do you have kids or pets, or both?
Mud. Is it really such a glorious thing? We think not! And no doubt you'll agree, especially when it's traipsed through your home. And there's nothing appealing about a garden that resembles a quagmire either.
Kids and pets playing on a natural lawn are always going to create mud. If that's not something you are comfortable with, then a fake lawn is the answer. With fake grass, you can wave goodbye to that mucky stuff forever. Plus, with an astro turf garden that's fitted with a shock pad underlay, it's so much safer for children to play on.
Buy premium grade fake grass from Astro Warehouse
Looking for premium grade synthetic grass you can buy by the roll? You'll not find a more competitive fake grass cost than what we offer here at Astro Warehouse.
Browse our artificial grass ranges, read our installation guides, or get in touch for all the helpful advice you need from our expert team.