An English country garden remains constantly popular with many people. There's something special and summery about sitting in a country garden which is richly filled with herbaceous plants creating a haven for bees, butterflies and small birds. An English country garden will suit most outdoor spaces, whether you have a large house or small country cottage. Here, we look at some garden landscaping ideas to create your own English country garden.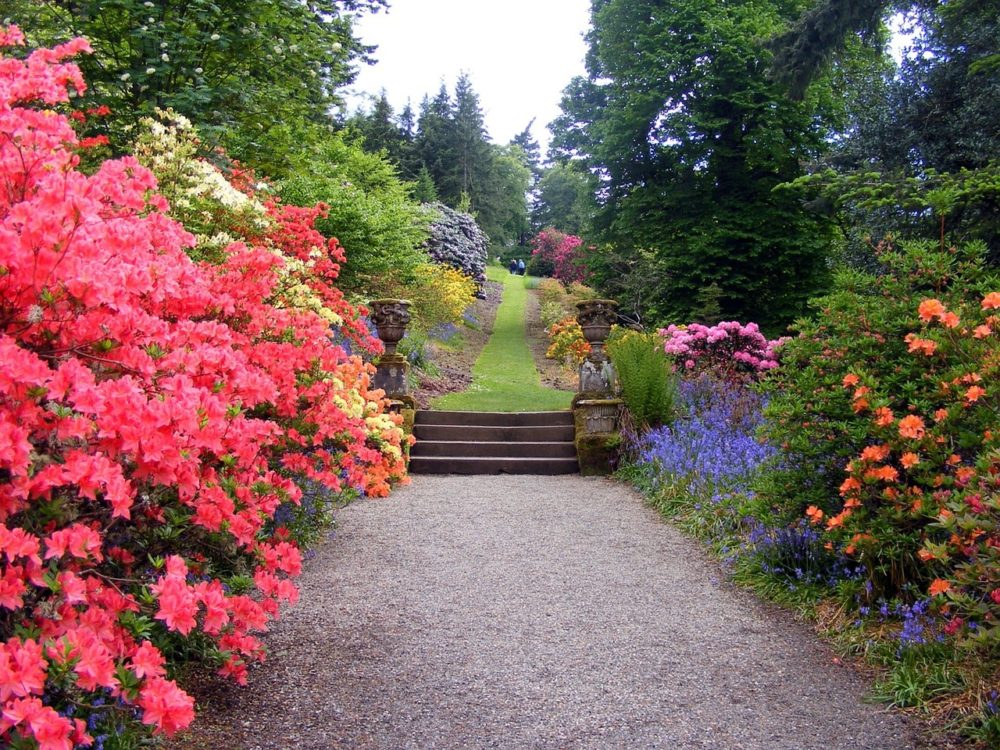 Create fullness and softness
An English country garden has a full soft feel complete with plentiful plants and flowers that are overflowing. You may think that this is unachievable, especially if you have a new garden or you're starting over.
You can help to give a sense of fullness by blurring the look of boundaries between hard and soft landscaping. Try planting at the base of structures such as walls, sheds, pergolas and other buildings, and train plants to grow up fences to soften these areas.
Hard landscaping
Within an English country garden, you will always need the functional elements such as pathways, sheds, patios or seating areas. The key to blending these into a country garden is to use rustic materials rather than anything new or fake looking objects.
Try wood, brick or iron elements rather than plastic or too much concrete. Use climbing plants to give tall or man-made structures a softer appearance.
Combine informal and formal landscaping
Whilst a country garden is likely to have plenty of relaxed planting such as wild or natural areas, you can avoid giving your garden too much of a messy look by adding in some loose forms of structure.
This could be achieved by using more structured plants, such as hedges or yews.
Use water features
Another garden landscaping idea is to add a water feature to help soften the outdoor space of your country garden. If you have room, then opt for a pond which will create interest in your garden as well as helping the eco system by supporting the plant and wildlife.
If you don't have the space, opt for a fountain or small water feature which can be placed practically anywhere, including amongst your shrubs and plants.
A lush green lawn
Any English country garden needs to have a lush green lawn to support its vibrant borders. If you're struggling to keep your grass looking its best, then you should consider artificial grass. A synthetic lawn looks fabulous all year round, without the necessary maintenance or the expense of weeding, feeding and watering.
With fake grass there will be no mud in the winter or muddy footprints traipsed through the house, and in the summer a fake lawn won't look dry and dehydrated.
Got your heart set on creating an English country garden? Look to Astro Warehouse for a natural looking lawn without the hassle.
An artificial lawn will look stylish and lush in any country garden. At Astro Warehouse, we're proud that our grass ranges are of exceptional quality and come across as amazingly realistic. Our prices are extremely competitive too.
Need samples? Order yours here. Check out our helpful installation guides to find out more about laying fake grass on all types of surfaces.
For any other help, get in touch with our friendly team.