A secret garden is an intimate place where you can relax and enjoy some peace and quiet away from the stresses of life. Whether you have a large or small outdoor space, you can still create and enjoy a secret garden. Here we look at some inspiring secret garden ideas, and how you can implement and enjoy them for yourself.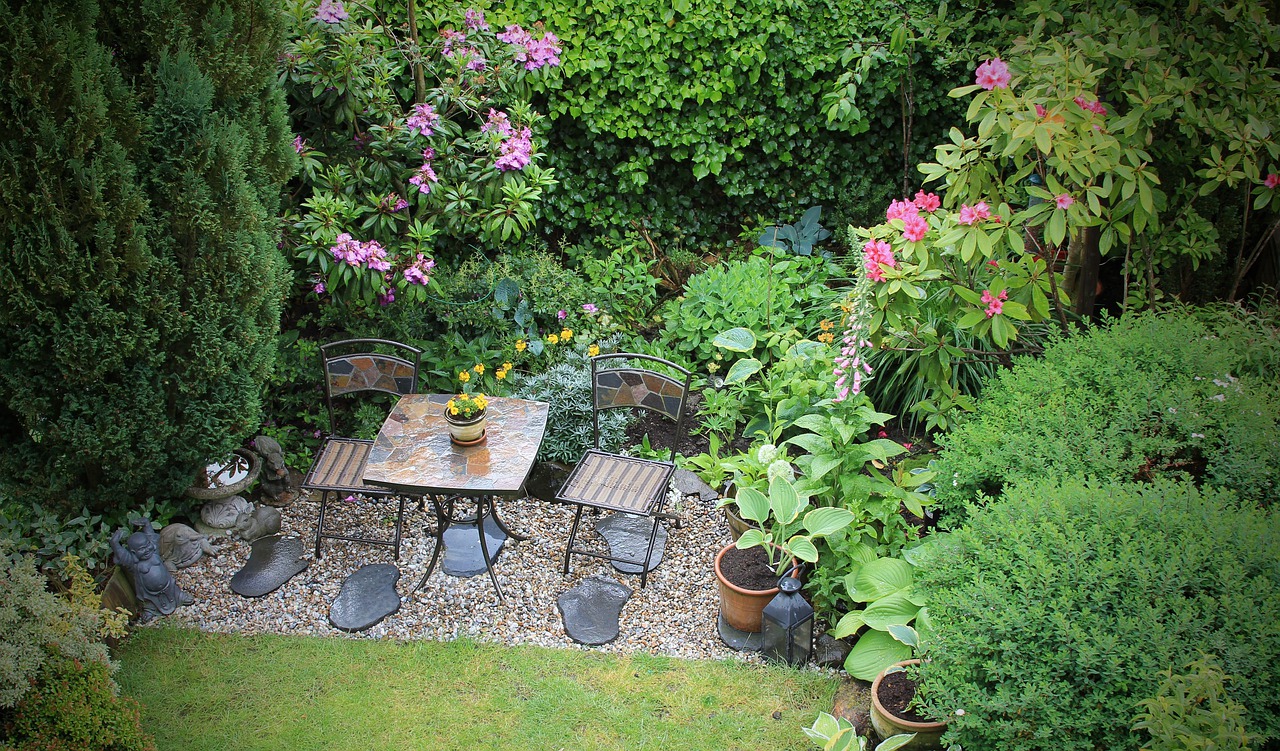 1. Pick the spot for your secret garden
First, you will need to pick the perfect spot for your secret garden. Take a good look at your outdoor space. Is there an area which is naturally tucked away where you can escape from the busy-ness of the main garden? Is there a zone where you love to sit? Perhaps a place that gets the morning sun, or somewhere you like or relax in the evening after a long day at work? Be sure to choose somewhere that fits your vision for your secret garden.
2. Make an entrance
Building a dedicated entrance to your secret garden is a good way of keeping it separate as well as secret. There are various ways you could do this. Think about an archway using either bricks or trellis, perhaps a wooden or wrought iron gate or a pergola topped with trailing flowers. Your entrance doesn't have to be a door, but a clear indication that you are stepping into another place: your secret garden!
3.   Plan the landscaping
How do you want your secret garden to look? To answer this question, bear in mind how you will use your secret garden. Will it be a place to relax and unwind? Somewhere to entertain friends? Or will it be for something else altogether?
Most secret gardens have a certain look that is leafy, secluded and romantic. A clever secret garden landscape design is to use lots of plants and plots so that you can't see the end of your secret garden. Break down an open space into smaller secret garden rooms that will create a sense of intrigue as the boundaries become blurred.
Plants such as bamboo work well because it is easy to look after, grows fast and acts as a privacy screen. It can be planted in pots or straight into the ground. Trailing plants and climbers such as jasmine, honeysuckle and roses can be used to grow up fences or walls. This helps to create more privacy for your secret garden, plus their gorgeous scent helps them to fit in with the romantic theme.
Create more interest and nooks and crannies through features. Use trellis to screen off a section, think about winding pathways or stepping stones and perhaps introduce a small pond or water feature. Could you add a pergola or a small summer house to create a charming hideaway in your secret garden?
3.   Accessorise your secret garden
Making your secret garden comfortable is the final step. Choose furniture that can ideally be left out in your secret garden, and opt for something that fits in well with the space. A bistro set will work just as well as a larger table and chairs set.
Use soft lighting to keep in with the theme. Fairy lights set the mood perfectly. Wrap them strategically around larger shrubs or trees, hang lanterns or dot candles in jars carefully around your retreat.
Other secret garden ideas include using artificial grass. A fake lawn will instantly add greenery that looks natural and beautiful all year round. Fake grass needs far less maintenance than natural grass, giving you more time to cultivate and relax in your secret garden. You could also use artificial grass on walls to give more visual appeal and soften hard structures.
For premium fake grass that looks amazingly realistic in your secret garden, choose Astro Warehouse
For a secret garden landscape design using quality synthetic grass that looks stunning, feels natural and reduces your garden maintenance, choose Astro Warehouse for your fake grass.
Not only is our artificial grass range premium quality, it also comes by the roll and is supplied at unbeatable prices. Need samples? Order yours here. We also have a range of installation guides to help you fit your fake grass on any surface. Questions? Get in touch with our helpful team.