Wondering how you can give your outside space a unique look? One that won't be the same as any of your friends but will look stunning and be the envy of everyone who visits? Why not use artificial grass tiles to create an artificial grass quilt? Read on to see how by using fake grass tiles, you can build a new and different design for your garden.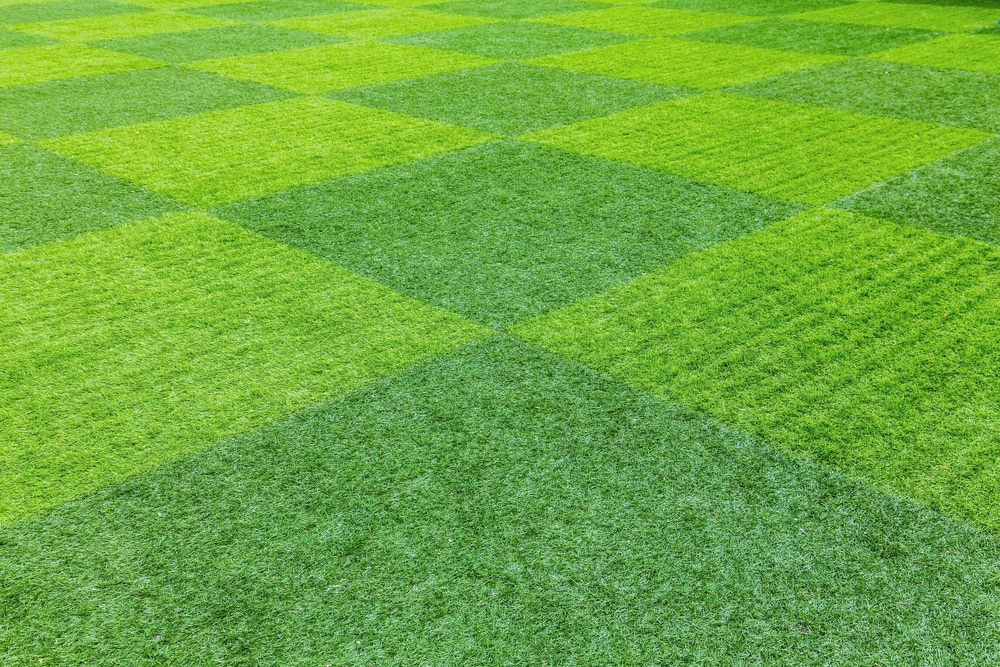 What is an artificial grass quilt?
Quilts were traditionally made with scraps of material creating a patchwork effect that would be made as covers for beds. They were often created and presented as gifts for new babies, at weddings or when a friend or family member was leaving home.
As time moved on, the patchwork quilt was then used in other designs such as tablecloths, decorations and even clothing.
The modern take on the patchwork quilt means that it can now be used in garden landscaping. Rather than using scraps of material, you instead use artificial grass tiles.
How to make a fake grass quilt using artificial grass tiles
Follow our guide to make your own fake grass quilt…
Choose your design
If you were making a material quilt, you'd be sketching out your design first. So likewise, do the same with how you'd like your fake grass quilt to look. Consider the size of your artificial grass tiles based on the entire space that you're working with.
Purchase your artificial grass tiles
Do some research here and take your time in finding the right type of grass tiles. It's best to go for quality so be careful which supplier you choose.
Your design would have incorporated the different colour or shading of grass tiles that you need. How many different colours or tones can really make a difference in your quilt? If you're unsure, it is a good idea to order some free samples so that you can test them out in a smaller version first before committing to the larger size.
Cut your fake grass tiles
To succeed with an artificial grass quilt, you need to be very precise with your cutting of the grass tiles. Take your time and don't rush. It's better to cut a little bit at a time to allow for any necessary adjustments.
Put the artificial grass tiles together
 You can now assemble the fake grass quilt according to your original design. Think about the type of surface that you will be installing your fake grass tiles on, as this will affect how you secure it. You may need to use glue or, if you're using artificial grass decking tiles, you will need to use staples or nails.
Looking to complete a stunning landscaping project? Choose Astro Warehouse for your artificial grass quilt.
An artificial grass quilt is a unique way to make your project stand out. Astro Warehouse offers a range of fake grass that is high on quality and low on price. Order your artificial grass tiles samples here.
Check out our helpful installation guides to get your fake grass down in no time.
For more specific advice, get in touch with our knowledgeable team.