Synthetic turf has become a hugely popular solution for schools and sports venues in recent times. Modern, premium quality fake grass looks and feels so incredibly authentic, but how does it perform in comparison to natural grass? And why is artificial grass for schools in such high demand? From low maintenance to high cost savings, read on to discover why so many educational establishments are appreciating the many benefits of synthetic grass.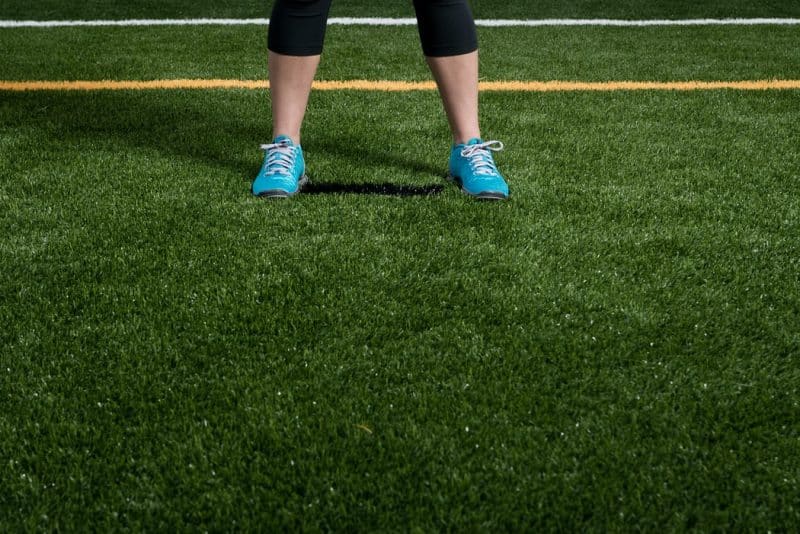 In a school playground setting, natural grass really does take a battering. Often muddy, patchy and full of tracks, not only does it look less than inviting, it's also messy, and hazardous too. It's no wonder then that the popularity of artificial grass for schools has escalated considerably. Let's take a look at why this is.
Artificial grass is safe and durable
School playgrounds are subject to exceptionally high footfall. Natural lawns can barely stand up to such heavy usage, leading to patches that create trip hazards, muddy tracks that are slip hazards, and puddles that cause even more problems of their own.
Using artificial grass for school playground areas however will eliminate all of these issues in one go. Choose a premium grade brand that's engineered especially for school use, such as our Astro Neptune product, and you'll find it is able to stand up to even the heaviest footfall. This is a fake grass that has been designed to look natural, but deliver on durability in every way thanks to its extra-stiff fibre construction.
When installed as recommended along with a shock pad underlay system, synthetic grass can be considered safe for school use, together with light to medium sports use. What's more, as it's free-draining, providing the correct installation instructions have been followed, fake grass will not form hazardous, messy puddles.
Synthetic turf is low maintenance
Education budgets are often being reduced, so the fact that maintenance costs will be slashed by installing artificial grass for schools has to be a major advantage.
No mowing. No weeding. No treating with chemicals or over-seeding. What does all this mean? No grounds maintenance costs! Yes there are some basic maintenance tasks that need to be carried out in order to keep artificial turf looking and performing at its best, and to ensure it lasts for years to come, but these are very straightforward in comparison to those required for real grass.
The long term investment benefits of synthetic grass therefore when it comes to school use have to be applauded, especially when you consider that a well-maintained, premium grade product such as Astro Neptune will last anything from 15-20 years, even with heavy use, providing the correct installation guidelines are followed.
Artificial grass for schools can be used year-round
Are your playing fields or grassed areas total no-go zones come winter or rainy days? Use artificial grass for a school playground and all that will become a thing of the past. No more cancelled PE lessons. No more postponed matches or abandoned games. Because with fake grass, you've got a safe, clean place to keep those sports activities going all year round.
What's more, fake grass is allergy-free too, so for those pupils who usually have to avoid grassy areas during days of high pollen counts, fake grass really does provide the ideal solution.
Specialist artificial grass for schools, available from Astro Warehouse
Our Astro Neptune artificial grass for schools is a specially engineered safe-play product, designed to optimise ball bounce and roll, as well as provide a safe environment on which children can confidently play, whatever the weather or time of year.
To learn more about this and all our other products, you are welcome to get in touch with our team of helpful synthetic grass experts who are ready to share their knowledge and experience to ensure you get the right product to suit your individual needs and budget.