Artificial grass has become a hugely widespread alternative not only to natural grass, but for indoor flooring too. From low-maintenance to volume and bounce, comfort and safety and of course that all-important aesthetic appeal, fake grass offers an array of advantages. It is no wonder then that its popularity has spread throughout the sports world, including gyms. Here's how so many gyms are finding benefits in using artificial grass.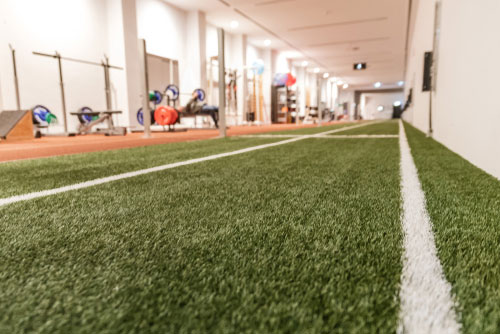 Traditionally, gym flooring has comprised slip-proof rubber, or even concrete fitted with mats. But this is no longer the case, because UK-wide, astro turf trade suppliers are confirming that more and more gyms are making the switch to artificial grass.
Why are so many gyms installing artificial grass?
Apart from the fact it's incredibly easy to install, there are numerous reasons why gyms are choosing artificial grass over other flooring types.
Hygiene
Research suggests that artificial grass provides a hygienic option due to its bacteria resistant coating that naturally blocks the growth of bacteria and fungus. In addition, because it's made from plastic fibres, fake grass provides a hypo-allergenic solution, a significant factor when it comes to improving the gym experience.
Health and safety
In weights rooms, fake grass provides sound absorption qualities and assists with reverberation issues. The non-slip surface also offers excellent grip and aids balance, which can reduce the risk of injuries from sudden slips during weight lifting. Imitation turf really does provide the ideal alternative to bland rubber gym flooring.
Low maintenance
Artificial grass is also easy to maintain, which is always a major advantage in a busy environment like a gym where cleanliness is of paramount importance. A regular brush with a broom is all it takes to keep it looking its best. Most stains can be removed with water alone, or soapy water for anything a little more stubborn.
Durability
When fitted with a shock pad underlay, the durability of artificial grass is exceptional, making it perfect for high footfall environments like gyms. Whether it's for an indoor running track, a weights area or general use, fake turf will last for anything up to two decades, providing the right installation process is followed, and the correct light maintenance guidelines are adhered to.
Comfort
A soft, bouncy surface underfoot is easily achieved using fake grass fitted over the top of shock pad underlay. Perfect for floor exercises, and excellent for shock absorption too thanks to its natural give that disperses energy, so reducing the risk of impact injuries.
Great for zoning
Synthetic turf is ideal for zoning off sections of a gym so different areas can be easily identified. When clean cut lines are important, as they are in any workout space, this type of flooring ticks all the boxes when it comes to creating set boundaries.
Looks amazing
As if all of the above benefits weren't enough, artificial turf also looks amazing too. It's modern, it's vibrant and it adds a splash of colour to an otherwise featureless environment.
What to consider when choosing artificial grass for your gym?
It's important to choose the right type of artificial grass roll for your gym. There are different grades, and varying piles, some of which are more suitable for sports use.
Our Astro Jupiter grass range for example is specially designed for sports applications thanks to its shorter pile, athletic engineering and higher durability structure. Always check with your astro turf trade suppliers as to which particular grass range will best suit your needs.
Other important considerations are the importance of shock pad underlay, using a rubber infill rather than sand for added volume and bounce, and following the most appropriate installation technique. Instructions for how to lay fake grass on concrete for example are different to how to lay artificial grass on tiles.
Buy artificial grass roll for gyms at the best prices from Astro Warehouse
As astro turf trade suppliers go, Astro Warehouse is one of the most renowned when it comes to quality and price.
If you're looking to fit out a gym with astro turf, look to Astro Warehouse. Browse our artificial grass ranges, read our installation guides, or get in touch for all the helpful advice you need from our expert team.