Even the most durable high quality artificial grass doesn't last forever. With fake grass becoming increasingly popular among homeowners as well as within sporting arenas and schools, the potential amount of waste once synthetic grass comes to its natural life end can be huge. Here, we'll look at answering the question "is artificial grass recyclable?" and take a look at the options for astro turf recycling UK wide.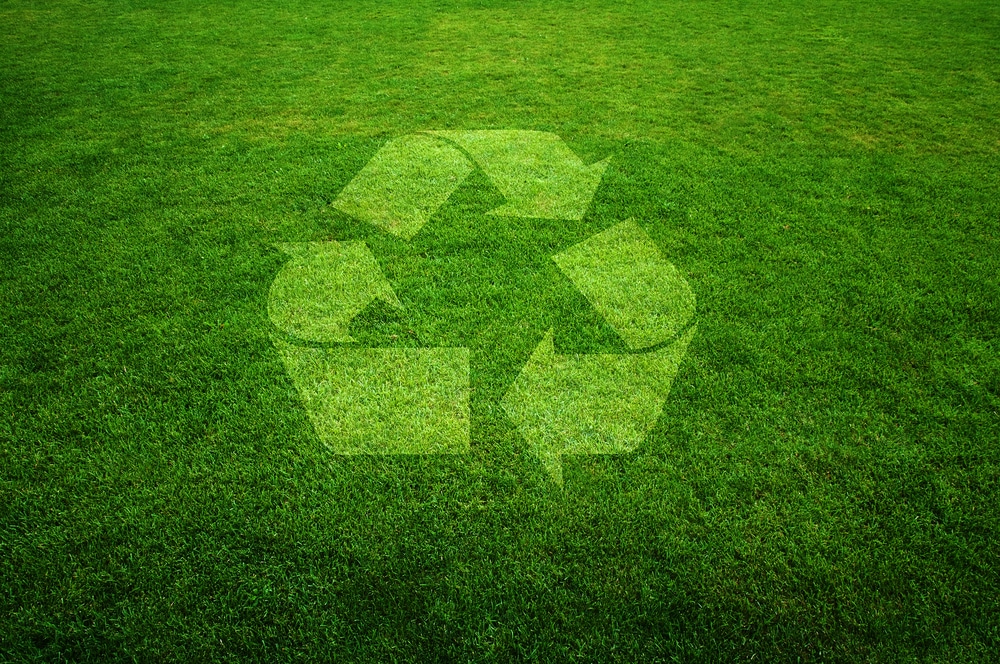 Is artificial grass recyclable?
It used to be the case that fake grass couldn't be recycled. Once artificial turf had reached its end of life, the only option was to put it in the bin, which meant a huge amount of artificial grass clogging up landfills.
With more emphasis and awareness now about sustainability and recycling plastic in general, thankfully there are more creative and responsible ways in which to deal with astro turf recycling in the UK.
The problems with recycling false grass
The first obvious problem with recycling astro turf is that it is far bigger than your usual plastic bottles or plastic packaging.
The other issue is that, whilst a large proportion of fake grass is made of plastic which can be recycled, there are other products that come into play, such as infill sand and rubber. These can be difficult and often expensive to separate. For this reason, many people would often just dump their artificial grass in the landfill. But there is a more eco-friendly solution.
What are the options now for recycling fake grass?
With more commitment to sustainability and the environment, there have been advances in technology which can help in astro turf recycling. UK wide there are now several companies that are dedicated to recycling synthetic grass and hopefully there will be more in the future.
One of these companies is GBN Artificial Grass Recycling. Based in Amsterdam, this business is leading the way for artificial grass recycling and serves the entire Dutch market. A huge plant incorporating new technology allows the materials within the false grass to be separated.
The rubber and the sand is split out to be re-used. The plastic grass is also recycled.  GBN Artificial Grass Recycling has now reached an enviable point where its product is completely circular. In fact, they make new artificial grass from recycled materials that were once originally fake grass!
The future for astro turf recycling in the UK
With more advances in technology, the possibility to recycle artificial grass will continue to grow as more companies invest in this specialist machinery.
In the meantime, rather than throwing your old false turf into a landfill, you could re-purpose it for other uses. Possibilities include using your old fake lawn to line animal shelters, as coverings for play areas, or as a form of protection against rain and winter weather. Whilst this technically isn't recycling, re-using your old artificial grass is still better than disposing of it to landfill.
Looking for quality fake grass that will last the distance? Choose Astro Warehouse.
For quality artificial grass that is guaranteed for eight years, choose Astro Warehouse. Our grass ranges have a natural look that will suit any type of fake grass requirement and we expect our products to last up to 20 years. Best of all, our prices are extremely competitive.
Our helpful installation guides  give you easy to follow advice at each step in your project.
Need samples? Order yours here. For any help or advice, get in touch with our friendly team.