A paddling pool is an ideal way to keep children entertained during the warmer months. Recently, larger sized pools have become popular so that the whole family can join in the fun. As a result, a common question we're often asked is "Can you put a paddling pool on artificial grass?" Here we look at the answer to this question, along with points to consider with paddling pools and fake turf.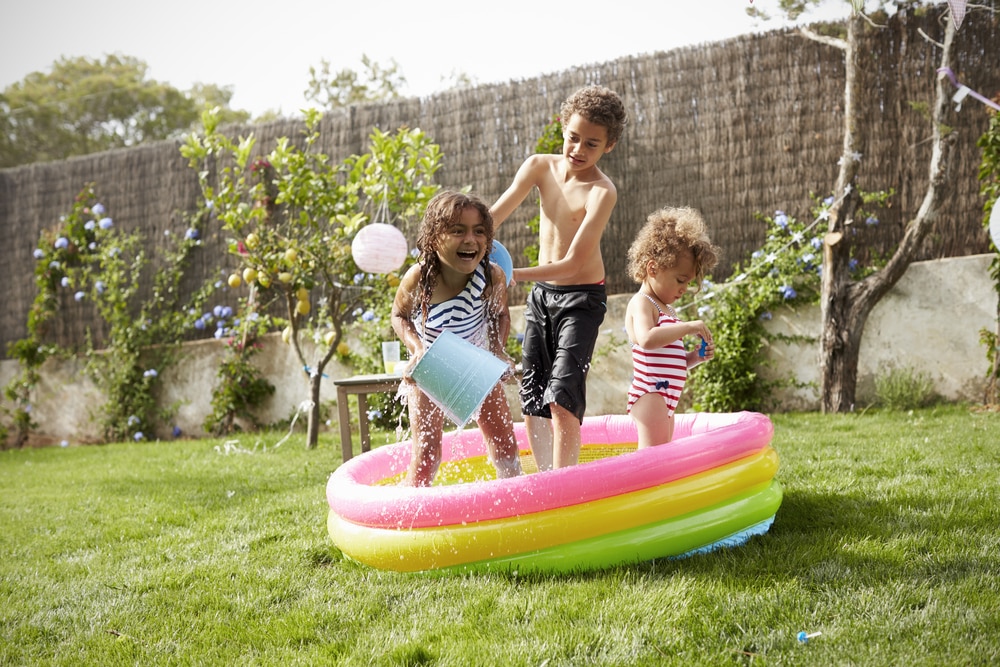 Can I Put a Paddling Pool on Artificial Grass?
The short answer to this question is yes, you can put a paddling pool on a false lawn. A paddling pool will not kill or discolour synthetic grass like it is prone to do with natural grass. Here are some of the benefits of putting a paddling pool on astro turf.
Fake grass is durable
Artificial grass copes well with a heavy footfall of traffic, so it will provide a good, safe surround for a paddling pool. There will be no danger of children or adults slipping as they clamber in and out of the pool.
There's also no chance of false grass turning into a soggy, muddy mess, which often happens when a paddling pool is placed on natural grass. This in turn will save your indoor carpets and flooring from having wet grass or mud traipsed through the house.
False turf won't die
Whether you have a small inflatable paddling pool, or a heavy duty larger pool which you keep up for the entire summer, you can be sure that once you take it down, there won't be a nasty patch of dead or dying grass underneath. With a fake lawn, the grass won't die off or discolour. There will also be no noticeable depression marks which you often see with natural grass.
One thing you will need to remember when considering "Can I put a paddling pool on artificial grass?" is that the blades of grass will have flattened. But this is easy to rectify. Simply use a plastic brush to pull back the fake turf after you've finished using your pool, so that the blades spring back up and you have your artificial lawn looking fabulous again.
Artificial turf has good drainage
If fake grass is installed properly, it will have excellent drainage which is often better than natural grass. This is good to remember when water is being slopped out of the pool, and when it comes to emptying the pool before packing it away!
A synthetic lawn will have a good sub-base
False grass requires a good sub-base as a foundation, and this can help with the weight of a paddling pool. Once filled with water, all paddling pools will be heavy. Some of the larger pools, if left up for a while, may well cause a depression because of the sheer weight.
Remember that a paddling pool of any size needs to have a flat and level surface. Placing a paddling pool on even a gentle slope may cause the sides of the pool to sag, spill water or collapse.
Not sure whether you can put a paddling pool on artificial grass? Talk to the experts at Astro Warehouse.
Hopefully we've shown here the benefits of false grass with paddling pools which include durability, drainage and no dead patches of grass to deal with. This should answer the question "Can I put a paddling pool on artificial grass?"
Not only is our artificial grass range premium grade quality, it also comes by the roll and is supplied at unbeatable prices.
Need samples? Order yours here. We also have a range of installation guides to help you fit your fake grass on any surface. Questions? Get in touch with our helpful team.