Fireworks night is almost here, and it's the chance to celebrate with friends and family either at a local display or with garden fireworks. We discuss whether it's possible to have fireworks on artificial grass, and alternative options for fireworks on false turf.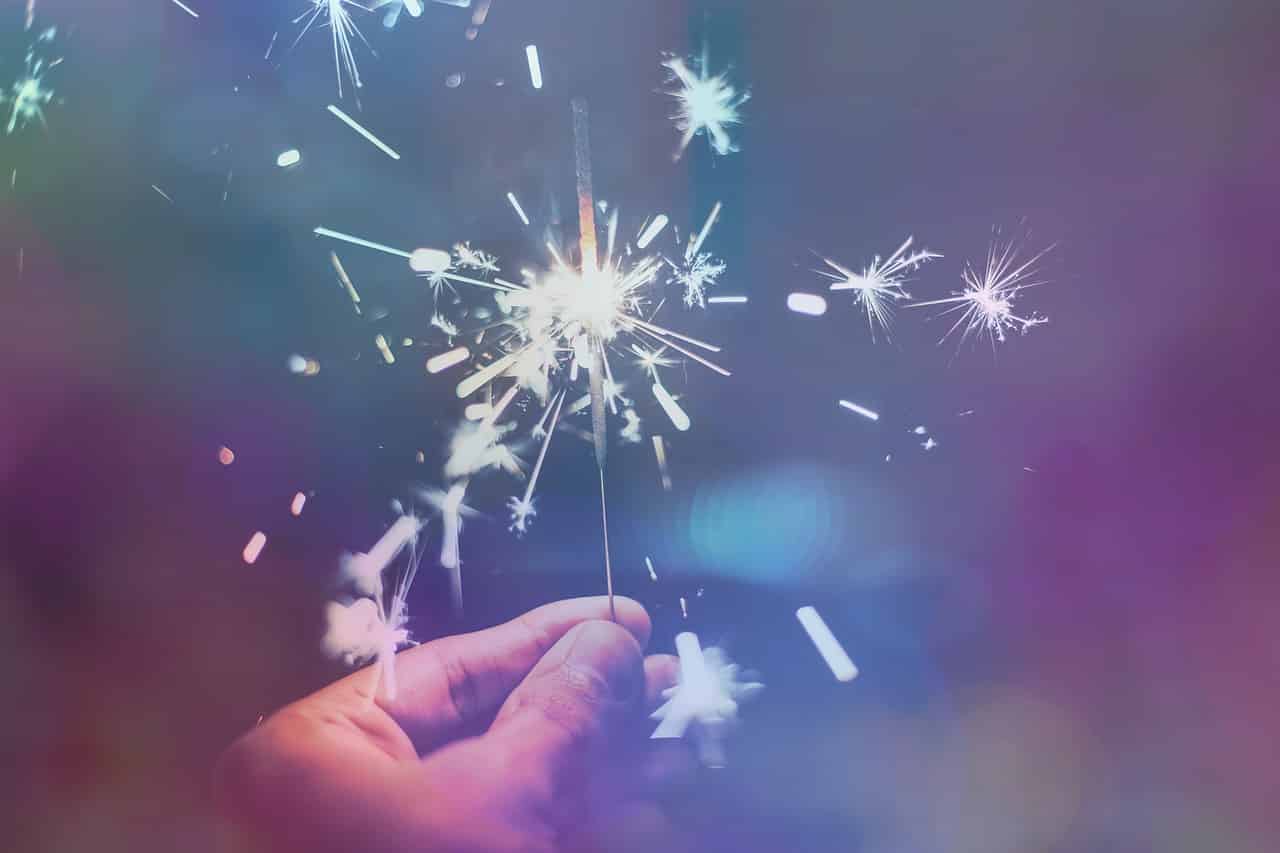 Don't light bonfires on fake grass
Bonfires are a big part of the fireworks celebrations, but if you have an artificial lawn, you should never put a bonfire on it as the heat will melt the fibres.
A bonfire needs to be at least five metres away from artificial grass, and should be placed on a hard-surfaced area such as a patio. If there's any chance of sparks blowing or being carried near to your false turf, we suggest not having a bonfire at all.
Don't light fireworks on artificial grass
Just like a bonfire, garden fireworks whether based on the ground or airborne, will let off sparks which can land on your synthetic grass and cause serious damage. Our advice is to never set off fireworks on artificial grass.
If you are hosting garden fireworks, you'll need to make sure that they are lit on a hard surface well away from your fake lawn where there is no chance of sparks landing on and ruining it.
Don't use sparklers on false grass
Sparklers as part of garden fireworks are fun for adults and children. They may seem harmless to use around artificial grass, however, sparklers can be hazardous reaching temperatures up to 1600 degrees centigrade.
As their name suggests, sparklers give off plenty of sparks, and if these land on your fake lawn they will cause severe damage. Just like fireworks on artificial grass, we suggest not using sparklers on or near false turf.
What can you do with an artificial lawn on bonfire night?
We've established that fireworks on artificial grass are not a good idea, so here are some alternatives:
Why not invite friends and family over to sit outside with a glass of something and admire the view of all the other fireworks going off in your neighbourhood? Fake grass is a good option to use whatever the weather and, unlike a real lawn, it won't turn into a muddy mess when your guests congregate outside.
Laser light shows can be a good alternative to fireworks and are often used at large New Year's Eve events. They're safer and less noisy than the real thing, which means they're pet friendly and less harmful to wildlife too.
Firework lighting including glow sticks, lanterns and fairy lights are an effective and safer way to light up your garden if you're hosting a party or gathering on artificial grass. Just remember that lanterns or anything giving off heat should be kept well away from your false lawn.
Finally, you could visit an organised fireworks display which takes away the worry about fireworks on artificial grass. Public fireworks also removes the pressure of entertaining, but if you do love to host, you could always invite friends back for hot dogs or a bowl of chilli and continue your party outside on your fake lawn.
DON'T set off fireworks on artificial grass, but DO get the gang round to watch them on a nice fake lawn from Astro Warehouse.
Fireworks on artificial grass are not a good idea, as sparks can melt and cause damage. If you have fake turf, we recommend opting for an alternative such as a laser or light show.
A good quality artificial lawn is durable and will cope with a high level of foot traffic. So, invite the gang round, grab a blanket and a deck chair and settle down on your artificial lawn to watch the fireworks from afar.
Our artificial grass range is premium grade quality and also comes by the roll so it can be supplied to you at unbeatable prices. Samples? Order yours here.
Don't forget to check out our installation guides for help fitting fake grass on any type of surface.
Questions? Get in touch with our expert team.