Having a swimming pool in your back garden is becoming more of a popular option in the UK. But what are your options when it comes to artificial grass swimming pool surrounds? And how should you go about installing them? This guide explains all.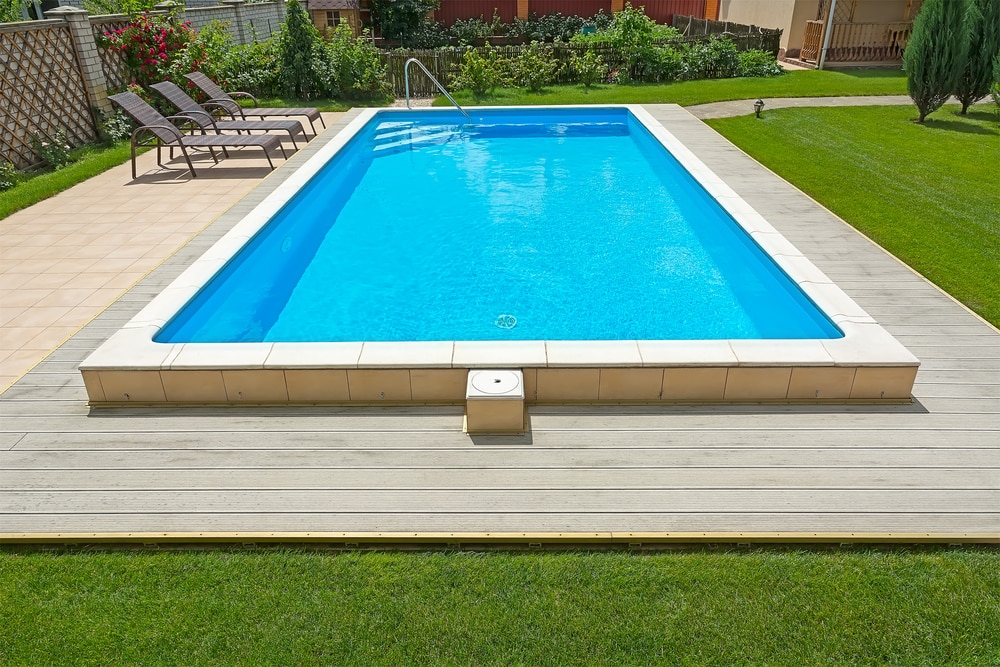 The benefits of having artificial grass swimming pool surrounds
Fake grass is durable and needs little maintenance
Once installed, a high quality artificial lawn should last for about 20 years and needs very little maintenance. False grass is durable, it will not lose its colour or change its finish even when exposed to the chlorine in pool water. The UV filters in fake grass means it is protected from sun damage and it won't fade.
A pool with artificial grass surrounding it will be strong enough to stand up to a lot of foot traffic, which is handy for those summer days when you have a houseful of people using your pool.
To keep artificial grass looking its best, it will need a brush to get rid of leaves and debris and to keep the fibres standing up. It may also need an occasional hose down to get rid of any dust or dirt.
Artificial grass swimming pool surrounds are safe and non-slip
A huge benefit of having an artificial lawn surrounding a swimming pool is that it's safe and non-toxic. Synthetic grass is being chosen more often to surround swimming pools because of its non-slip surface.
If you're in and out of the pool for hours at a time, you're most likely to be barefoot, so it's good to know that astro turf is comfortable, and you won't slip over. False turf is comfortable to walk on in bare feet too.
Fake turf has good drainage
A pool with artificial grass surrounding it is a good choice because it has excellent drainage. This means it can cope with all the pool water that is being slopped on it! Synthetic turf is completely permeable with drainage holes on the back to allow for water to pass easily through it.
If you decided to choose a different type of swimming pool surround such as paving, you would need to make sure you have sufficient drainage by installing drains which can ramp up the cost. Real grass around a swimming pool has comparatively poor drainage. You may find that your lawn becomes waterlogged with puddles forming, which can be unsightly as well as being a dangerous slip hazard.
Astro turf looks amazing
Whether you're looking to install artificial grass on a pool deck or within the middle of the garden, false grass will look and feel amazing.
It will stay looking good all year round and it won't become a sloppy, muddy mess when pool water is splashed all over it. Unlike natural grass, you won't end up with clumps of grass being brought into your pool so there will be less time spent cleaning it out along with the filters.
With fake turf you won't get wet feet treading natural grass all through the house, causing a mess. Finally, chemicals from the pool won't kill off fake grass like it can do with natural grass.
Which artificial grass to choose for swimming pool surrounds?
We recommend choosing a fake grass that has a fairly short pile height of between 20-30mm for surrounding a pool, because a shorter pile has a firmer finish which gives good support for walking barefoot.
For a similar reason, we'd recommend choosing a false lawn that has a high density pile. A denser pile gives your synthetic grass a good finish, but it also provides a comfortable turf to walk on when barefoot.
Try either the Astro Mars or Astro Neptune artificial grass ranges from Astro Warehouse which are both family friendly, durable and have a lovely natural appearance.
Artificial grass swimming pool surrounds installation
Just like other surfaces, you'll need to follow these steps and refer to our handy installation guides for installing fake turf around a swimming pool:
Prepare the ground. What surface do you want to install your fake grass on to? Does it have a slight slope to allow for water run-off? If you're installing on top of flat concrete for example, you will need to drill holes to allow for drainage.
Install your sub-base. This essential step gives support to your synthetic lawn and ensures sufficient drainage. Install your weed membrane first, and then add your type 1 aggregate.
Install your underlay to give a bouncy and comfortable finish and then you can roll out your artificial grass.
Secure your false grass using glue, galvanised nails and edging.
Finally brush through your artificial grass with silica sand to ensure a good finish which protects the fibres of the grass.
Looking for artificial grass swimming pool surrounds? Talk to the experts at Astro Warehouse.
Artificial grass swimming pool surrounds make good sense for many reasons including safety, durability and looking super-stylish.
At Astro Warehouse, our artificial grass range is premium grade quality, it also comes by the roll and is supplied at unbeatable prices.
Don't forget, you can order samples so that you can get a real sense of how the false grass will look around your pool – Order yours here. Check out our range of installation guides to help you fit your fake grass on any surface, no matter where your pool is located. Questions? Get in touch with our helpful team.