It's time to decorate the house and garden for the festive season! Every year outdoor garden displays seem to get more elaborate and wonderful. If you have an artificial lawn, it's important to follow a few rules about decorating so that your artificial grass isn't damaged. Here we look at Christmas garden party ideas and some do's and don'ts for decorating with an artificial lawn.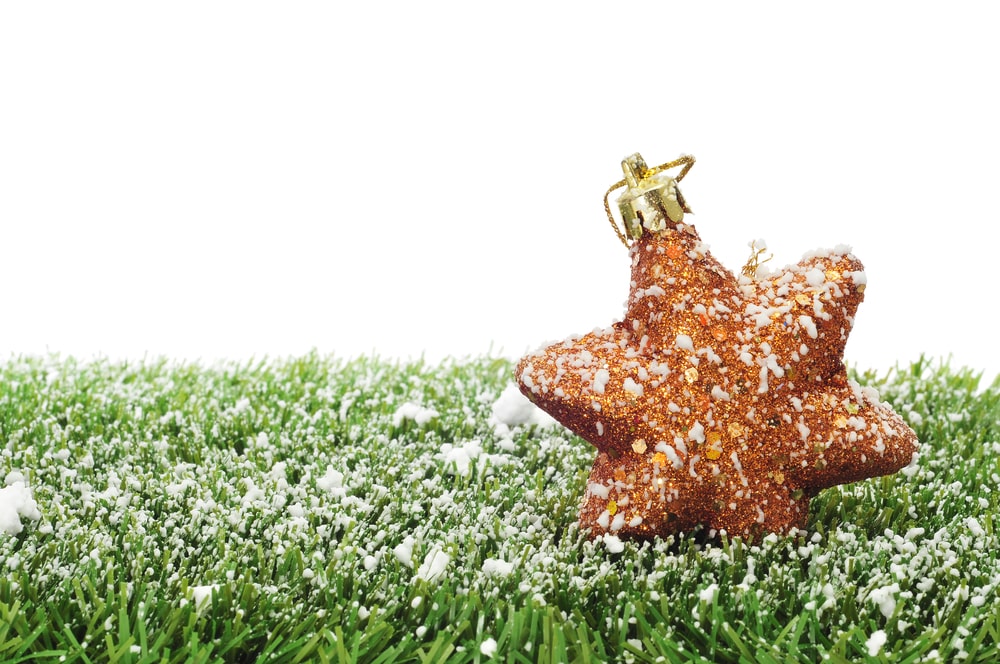 DO take care with outside lights
 If you're using any kind of outdoor Christmas lighting such as fairy lights or string lights, you need to take care over where you hang them so that they don't start a fire or cause any harm to any passers-by.
Do check that the lights are suitable for outdoor use. If you're using an extension lead or transformer, it must be securely sealed and contained within a weatherproof box.
For novelty freestanding Christmas lights, you need to be sure that these won't melt your artificial lawn. Most lights these days are LED which burn cool and shouldn't pose a problem, but if you're unsure after reading all the packaging, we would advise not putting your Christmas garden party lights directly on to the false grass.
DO make use of your artificial grass off-cuts
If you've just had your artificial lawn installed, you may well have some fake turf off-cuts. You could use these to make some festive decorations which you can hang from trees or stick to outside walls and fences.
Artificial grass off-cuts look good underneath a Christmas tree and they do a good job of covering up stands or anything else that you want to disguise or simply brighten up.
DO enjoy your artificial lawn!
One of the main benefits about having artificial grass is that it will stay looking great through the wet winter months, so there's no need to worry about the number of people trampling over your grass and ruining it.
Your artificial lawn is durable and can cope with extra foot traffic, and with no mud or mess, you can be sure to enjoy your false lawn for a Christmas garden party.
DON'T use stakes in your artificial lawn
Christmas garden party ideas often include inflatable or freestanding novelty Christmas figures. If these are light-weight or need to be secured to the ground, you should not use stakes or peg to drive into your artificial lawn as this could damage your fake grass.
We recommend placing such Christmas decorations in other places such as plant beds where stakes can be used saafely, or you could look to secure your ornaments to the grass in another way such as tying them to a heavy decoration which will prevent them from blowing away.
DON'T go over the top!
Whilst it's lovely to have some outdoor Christmas garden party decorations, too many can sometimes have the opposite effect. If you overdo it with the decorations, you may end up annoying your neighbours and getting a very expensive electricity bill.
Sometimes, less is more and it's always nice to see your house as well as your artificial lawn rather than just the Christmas decorations and lights!
Let your artificial lawn be the main attraction this Christmas, with a top quality artificial grass from Astro Warehouse.
An artificial lawn will allow you to enjoy outdoor Christmas decorations without the worry of killing the grass or trampling in mud. It's also a fantastic showcase for any Christmas party decorations, just be careful not to burn or damage your artificial grass with lights and pegs.
At Astro Warehouse, our artificial grass range is premium grade quality and comes by the roll and is supplied at unbeatable prices.
We also have a range of installation guides to help you fit your fake grass on any surface.
Looking for samples? Order yours here. Questions? Get in touch with our helpful team.