Gardens can be exciting places for dogs to explore and exercise. But dogs can sometimes cause damage to our green spaces by digging holes, using the grass as a toilet and generally messing with things that they shouldn't! Luckily, there are lots of hints and tips to help your dog and your garden co-exist happily together ranging from introducing dog-friendly plants, to avoiding chemicals and exploring the benefits of artificial grass.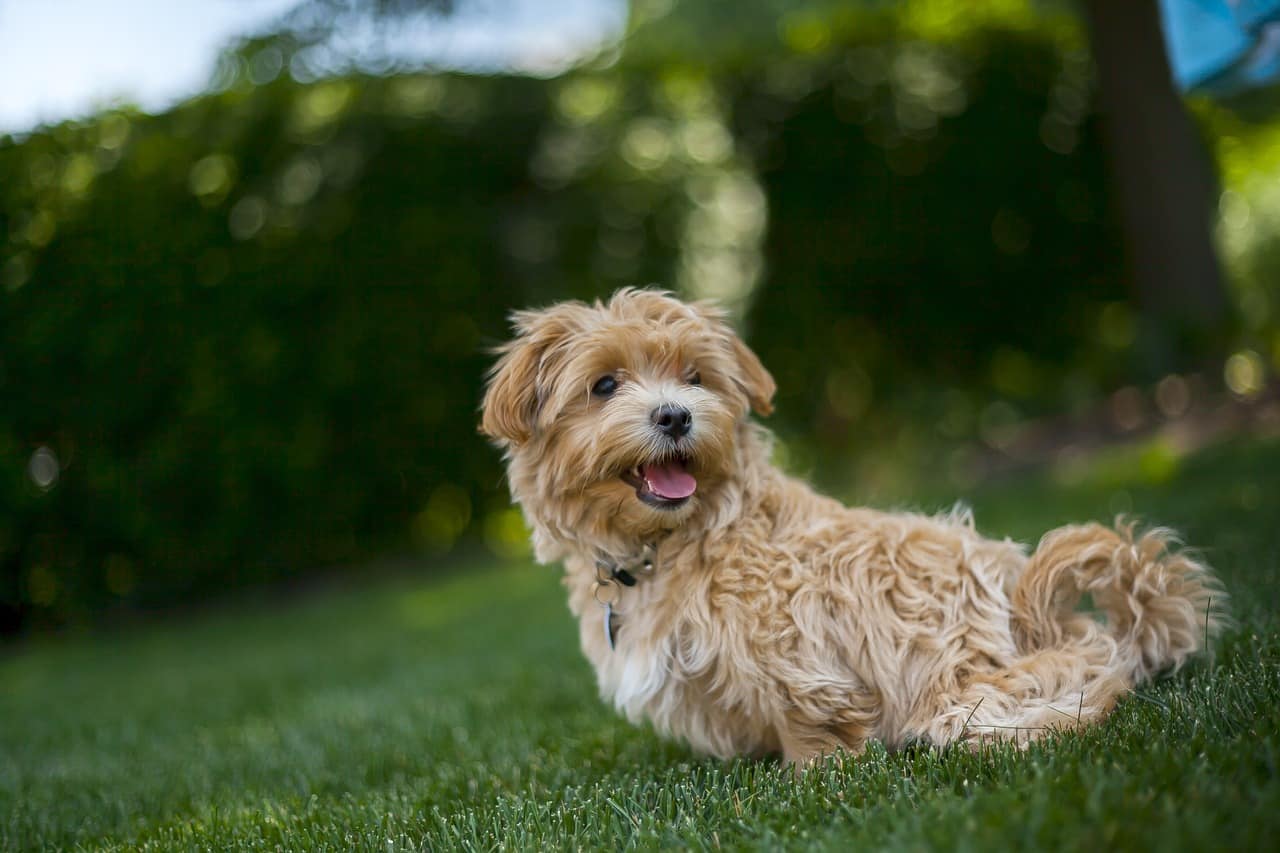 Looking for advice on creating a dog-friendly garden? Read on for our top tips… 
1.  Secure Your Garden
Some dogs love to dig in flowerbeds and under fences, so make sure your boundaries or borders are secure at the bottom. There should be no holes in any fences or hedges which they can escape through too. Dogs can jump surprisingly high, so fences should be at least 6 feet tall to prevent them getting out. Gates should also be locked at all time. 
2.  Use Dog-Friendly Plants
Dogs love to have a good sniff and forage through plants, but some can be poisonous to our canine friends. Toxic varieties include Azalea, Begonias, Cyclamen, Daffodil bulbs, Foxgloves, Hyacinth, Hydrangea, Lupins, Rhododendron and Yew. You should avoid planting these and stick to more dog-friendly plants such as sunflowers, camellias, snapdragons and roses. Always take your dog to a vet if you think they have swallowed a toxic plant. 
3.  Avoid Chemicals in the Garden
Avoid chemicals such as weed killer on your lawn and slug pellets which contain poison. Both could be harmful to your dog should they be ingested. If your dog eats a snail or slug which has been treated with a toxic pellet, then this can be harmful too. Opt for organic treatments and pesticides which are healthier for both your dog and other forms of wildlife. Synthetic grass also has the advantage of reducing the need for using weed killer on your lawn.
4.  Secure Non-Dog Areas
Certain spaces in your garden are a definite no-go for your dog. Sheds may contain sharp tools and dangerous substances to animals so make sure they are always locked up.
Compost areas can attract dogs because of their irresistible smells! Be careful that your compost zone is very secure and doesn't contain any food waste which can be deadly to dogs such as onions, garlic, raisins, grapes, sweetcorn and avocados.
Ponds, like any source of water can be tempting for most dogs. So, until your dog is used to a pond, it makes sense to screen them off. A shoreline is a good idea so that your dog can get out if they get into difficulty. Trellis and hedges are a good way of introducing natural screens to keep your dog away from no-go areas.
5.  Consider the Benefits of Artificial Grass
Natural grass can easily be damaged by a dog digging holes in the lawn and dog urine can cause grass to yellow. There are many benefits of artificial grass. Dogs will enjoy the thick, durable material of fake grass as much as humans!
It's comfortable and it can't be dug up in an energetic frenzy to form a muddy mess either. The shorter pile of fake turf is easier to keep clean and scoop up a dog's business than it is on natural grass especially when natural grass is long and wet. Synthetic grass allows the urine to drain through the surface so that it won't pool or smell. If your dog likes to use the same spot, you can rinse or hose the area with water to prevent longer term damage.
Durable Artificial Grass Roll at Competitive Prices
Having a dog and a garden can be a positive, fulfilling experience and one which your garden doesn't have to suffer because of your dog. If you're looking to find out more about the benefits of artificial grass then look to Astro Warehouse. We supply a range of artificial grass products which will suit any garden and dog owners. For trusted advice from artificial grass suppliers, feel free to get in touch with the Astro Warehouse team.