The benefits offered by artificial grass are many. But there appear to be an equal amount of myths associated with a fake lawn. If you've been thinking about making the move to artificial grass, we're here to debunk all those misconceptions that may have been putting you off, leaving you, we hope, with the peace of mind you need to go ahead with your plans.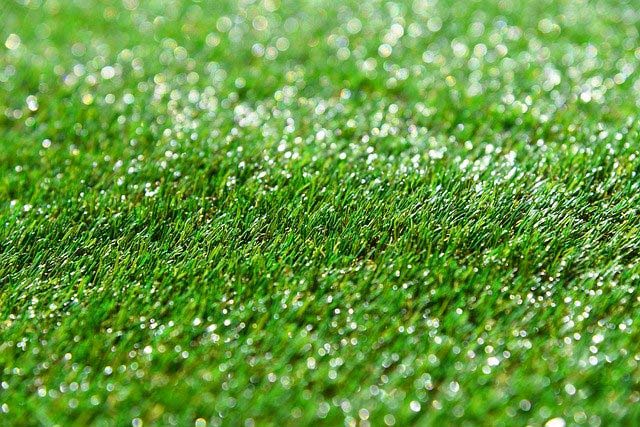 We find it a shame when all the great things about synthetic grass get pushed to one side by what can only be described as myths. So, without further ado, let's reveal the truth about the turf that's become so incredibly popular in recent times.
Myth 1: Artificial grass looks fake
Once upon a time, a long while ago, there was indeed truth in this myth. Remember the stuff that lined greengrocers' shelves? That was for sure the epitome of fake-looking artificial grass. It wasn't actually designed to be laid in gardens, although that didn't stop some homeowners from doing so.
The truth is that the artificial grass of today actually does look authentic. In fact, premium quality synthetic turf is so realistic that many people have trouble working out whether it's the real thing, or fake. This is because nowadays, fibres in multiple hues are combined to produce a much more natural look. Different shades of green are used, and even brown and yellow strands are incorporated for the ultimate 'real' effect.
Myth 2: Artificial lawns don't drain well
Another untruth! Synthetic turf does in fact drain very well, providing the right groundwork is done ahead of installing it. When you follow the right installation instructions, you'll become aware that creating adequate drainage is a vital part of the process.
For some base types, you'll need to create drainage holes if water doesn't naturally drain away. This is simply a case of drilling a few holes, and will ensure your fake lawn, when fitted, drains freely. Otherwise, artificial grass roll comes complete with a porous backing which naturally allows water to drain through.
Myth 3: Synthetic turf is not pet-friendly
The great thing about fake grass is that pets can't dig it up, or walk mud into the house after playing on it! Many pets actually prefer artificial turf. It's soft, well-cushioned and much easier to walk on than natural turf.
Artificial grass is also better for pets as it is free from the pesticides and fertilisers that are needed to keep real grass looking its best.
Myth 4: Artificial lawns are not environmentally friendly
Whilst it is true that fake grass won't attract pollinators, prevent soil erosion, boost soil regeneration or absorb carbon or rain water, it is important to look at both sides of the eco-friendly argument for fake lawns.
Firstly, an artificial lawn doesn't need watering, so you are reducing water consumption. Secondly, because there is no need for mowing, you are saving resources by not using electric or petrol-powered mowers or strimmers. Thirdly, there is no need to use weed killers or pesticides, so reducing the volume of chemicals that escape into our waterways.
Myth 5: Fake grass is expensive
Premium grade fake grass won't ever be 'cheap', but it's important to think in terms of what it gives back, and what you could potentially save over the years.
For example, artificial grass is known to last up to around 20 years. Imagine two whole decades of not having to water, fertilise, de-weed, re-seed or mow your lawn. Not to mention no more cleaning up trodden-in mud, or indeed paying a gardener to take care of your lawn. All that time and money saved! Look at synthetic grass as an investment rather than a cost and it will soon become more of an attractive proposition.
Enjoy the many benefits of budget artificial grass from Astro Warehouse
Hopefully now you are satisfied that all those things that were putting you off fake grass installation are actually myths!
At Astro Warehouse, we're trusted by both trade and public customers for our knowledge, expertise and quality commitment in all aspects of artificial grass. You are welcome to browse our artificial turf ranges, consult our comprehensive installation guides, or get in touch for helpful advice from our expert team.