Narrow gardens are very common, especially in older houses. Many people struggle with landscaping for narrow gardens because the long, thin shape seems problematic. But there are some simple solutions that will help you make the most of your outdoor space, whatever its size and shape. From pathways to fencing, here we share some landscaping ideas for long, narrow gardens.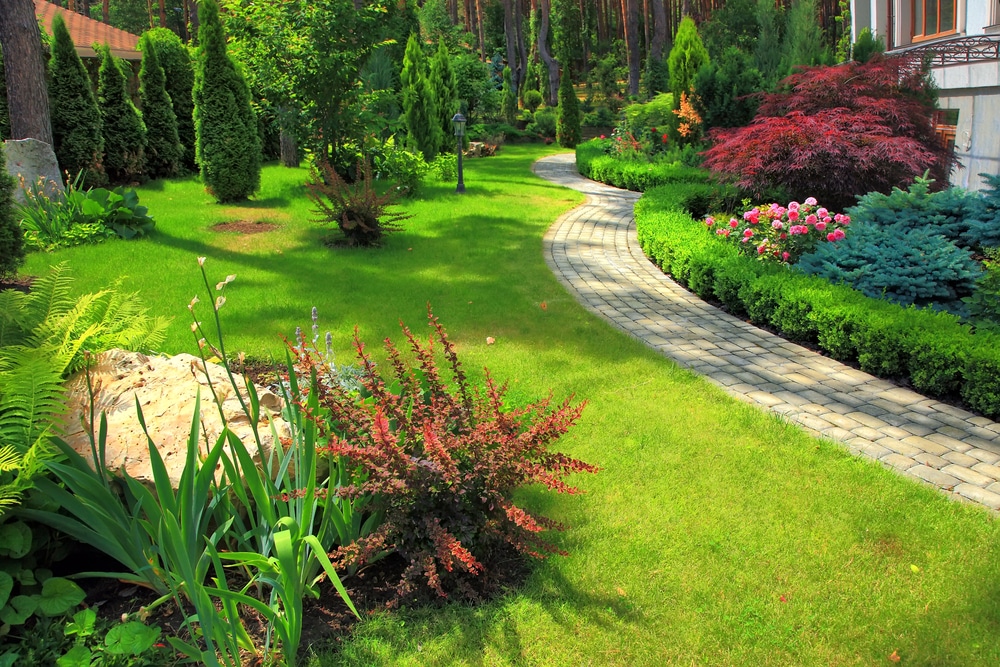 1.            Make use of winding pathways
There can be a temptation with a narrow garden to place a straight path from the top to the bottom of the garden. However, this can give the illusion of adding to the length. Instead, create interest and divert the eye to the width of your garden by adding winding or zig-zagging pathways.
2.            Avoid dark coloured fences
Painting fences in a dark colour in a narrow garden can make it look even narrower. Dark coloured fences can sap the light and give an impression of living with a corridor.  Instead, stick to light coloured fences to make narrow gardens appear wider.
3.            Create spaces
Break up the narrow feeling of a long, thin garden by dividing it up into smaller spaces. This will create interest and draw the eye away from looking directly to the end of your garden.
Give each zone a different purpose, perhaps extra seating for evening drinks, or a dining area. You may even want to dedicate space for children's play. You don't need to put physical barriers in between these areas, as this will make everything appear smaller. Instead, make use of a winding path, or add shape to your garden by incorporating some trellis. Alternatively, try some clever planting to break up the different spaces.
4.            Plan for the end!
With a narrow garden, it is often the case that the bottom of the garden will get less use and end up a bit neglected. Accepting this as a reality helps to plan what to do with it. Try making this end of the garden as maintenance free as possible. Use evergreen shrubs that need little looking after, or install paving rather than trying to maintain flowers and a lawn. If you're looking to install a summer house or garden room, then this is the best place to put it!
5.            Install artificial grass
A long, narrow garden often has the feeling of high maintenance, especially when the lawn seems to stretch on and on forever.
Installing fake turf into a narrow garden can help ease the maintenance, as there will be less mowing, watering and feeding of the lawn. Synthetic grass will look lush all year round, without any of the hassle in keeping it. Or pushing that mower down that long, narrow garden!
Looking to landscape a narrow garden with fake grass? Look to Astro Warehouse.
Landscaping a narrow garden needn't give you a headache. Try the tips mentioned above to draw the eye away from the end of the garden to give the illusion of width and space. And for hassle free work in a narrow garden, try installing artificial turf from Astro Warehouse.
Astro Warehouse provides quality artificial grass by the roll at the most competitive prices. Choose from our extensive range of artificial grass products to suit you.
Need samples? Order yours here. Check out our installation guides to help with fitting your fake grass. For any other questions or for specific advice, contact our friendly team who will be happy to help.