Garden features create interest by providing beautiful focal points, but they can also serve a purpose such as providing relaxing seating or creating shade from the sun. Here we look at different garden features and garden structures that are eye catching, and we discuss their various uses.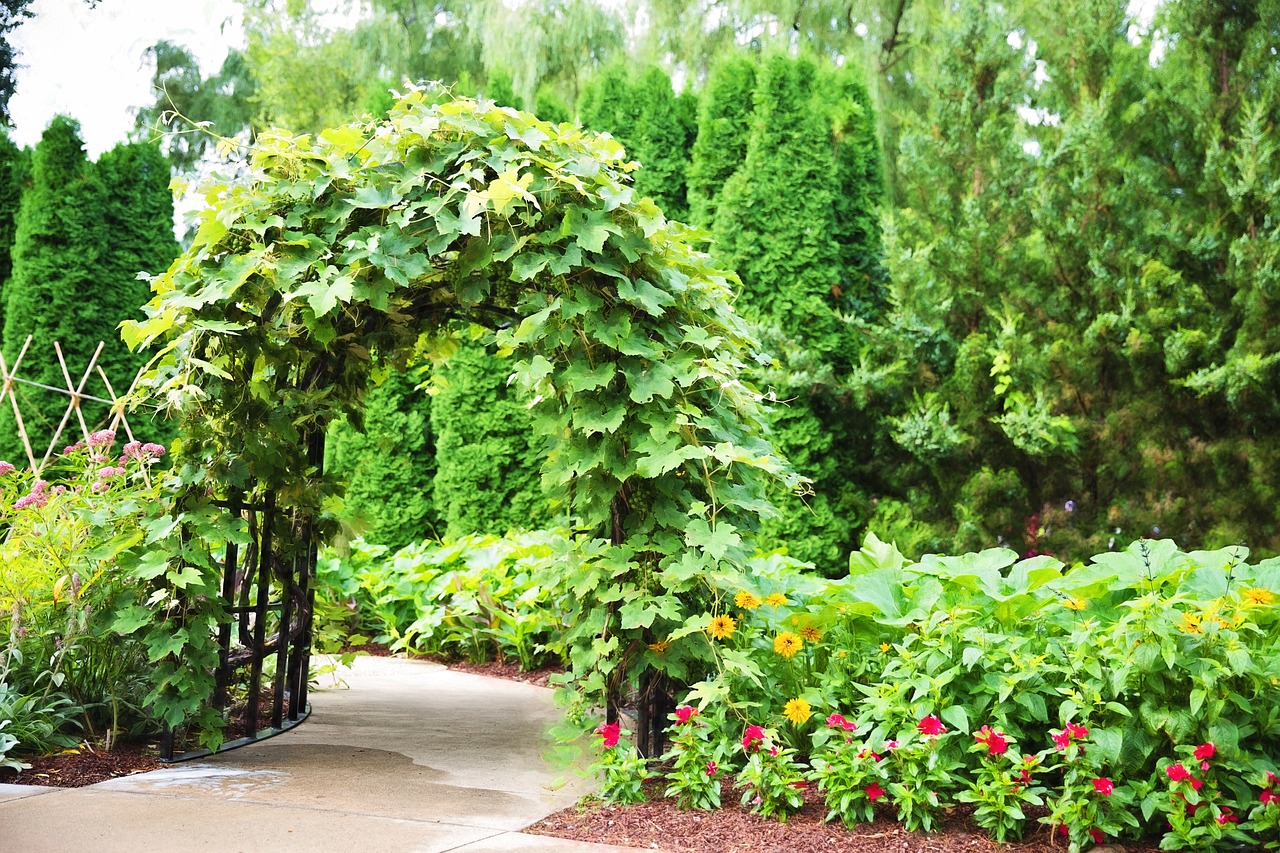 Pergolas
A pergola is made up of posts with cross beams to provide a canopy. Pergolas can transform your outdoor space, either as a free-standing feature or as an extension to your house. These garden features provide a place for you to relax and unwind and can look beautiful, especially when climbing plants such as honeysuckle, clematis or jasmine are trained to grow up and over the top.
Pergolas not only make a stunning focal point in garden, they also provide good functionality too, supplying welcome shade on a hot day, shelter and privacy.
Garden arbours
A garden arbour is a small seating area with a canopy roof usually made from wood. These garden structures provide an intimate, cosy space to relax.
Garden arbours make ideal garden features away from the house. Like pergolas, they look fabulous when climbing plants are trained to grow up the sides and over the top.
Water garden features
Water features are fantastic for garden landscaping ideas. They bring a touch of style to your garden and create a tranquil place to enjoy a cool drink, a relaxing read or a much-deserved rest.
With so many different options and ideas ranging from fountains to ponds and streams, from contemporary to traditional and themed water features, there will be something to fit with the individual style and personality of your garden.
Summer house
A summer house makes a stunning garden feature. As a separate building away from your house, it will provide an extra room to use as you choose. Ideas include a garden office, den or relaxation room, exercise space or cinema room.
A summer house can be designed in a variety of sizes and designs to suit your garden, ranging from traditional Georgian or Victorian to ultra-contemporary.
Artificial lawn
Garden features don't come any more noticeable than a gorgeous thick green lawn. Lush looking grass can really set off your borders, plants and shrubs. A real lawn needs a lot of care and attention to stop it from growing weeds, drying out in the summer and turning to mud in the winter months.
A fake lawn can take away the hassle of constant maintenance. It doesn't need watering or weeding and instead, artificial grass looks beautiful throughout the year and feels comfortable to sit on.
Looking for eye-catching garden features? Fake turf from Astro Warehouse will turn heads and last the distance
For garden features that catch the eye and make a difference to your garden, look at installing fake grass. Our quality products are supplied by the roll for the most competitive prices and come with an 8 year guarantee.
Need samples? Order yours here. We also have a range of installation guides to help you get started. Questions? Get in touch with our helpful team.