It's getting to that time of the year where we start to plan for Christmas. As well as decorating inside your home, it makes sense to think about Christmas garden ideas which will welcome visitors and help jolly along the festivities!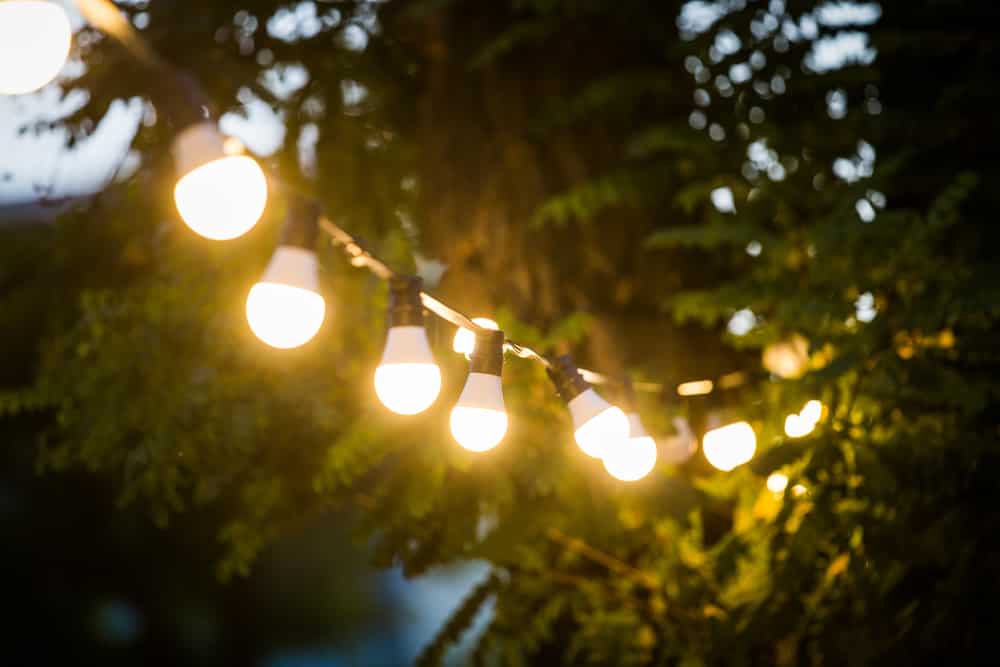 Christmas garden lights ideas
When it comes to Christmas garden ideas, nothing beats festive twinkly lights. With Christmas lighting, you can be extremely elaborate and light up your entire house, or have more of a subtle approach lighting up key areas.
Try wrapping Christmas lights around trees or hedges in your garden. Trailing festive lights across the length of a fence or wall can make your garden look inviting.
Consider using timers to activate your outdoor Christmas lighting so that they come on at a similar time every night whether you're indoors or away.
In a specific area, choose either coloured, white or yellow lights. It looks far more effective than mixing them up.
Outside garden decorations
For Christmas garden decoration ideas, try adding a wreath or a garland. Wreaths look stunning on a front door, but can also be used to decorate a brick wall or fencing. Use red and green for traditional Christmas colours, or mix it up and use pastels for a fun alternative.
Garlands look great when tied along the top of a railing or balcony.
Try hanging some baubles from trees or sturdy shrubs that are close to your windows where they can be admired by your guests. If you don't have any trees close to the house, you could buy a potted Christmas tree to decorate and keep outside in a space where it can act as a welcoming focal point.
If you have children, you might want to invest in light-up Christmas figurines which look fun when they're placed on the grass throughout the back or front garden.
Festive Christmas plants
For more Christmas garden ideas, try growing some festive Christmas plants in your garden. You can't get more Christmassy than holly. These evergreen shrubs with red berries will give you lots of colour outside. Holly is great for winter wildlife, and you will be able to take cuttings for a wreath, table decorations and other adornments around the home.
You could also try planting a Christmas rose which is white or pink in colour with large leaves and will last from late winter through to early spring.
Christmas garden ideas for socialising
If you're looking for home garden Christmas decoration ideas, you'll need to think about your outside entertaining space. There's no reason why you should stay indoors all day! So take friends and family outside with a mince pie and a glass of something for some festive cheer.
An artificial lawn will allow you to all gather outside with out sinking into the mud. Let kids burn off some energy with a run around on the artificial grass without needing wellies or risk treading mud back in throughout the house.
Light the fire pit or chiminea and gather everyone round to enjoy roasted chestnuts or marshmallows. It could be the perfect time for a game or a sing along to a Christmas carol! Just be sure to put your heat source on a patio and not directly on to the fake turf.
Don't forget some comfortable seating for your guests and provide some festive blankets and cushions for everyone to relax.
Looking for top Christmas garden ideas? Don't forget a high quality fake grass from Astro Warehouse.
There are many Christmas garden ideas that you can use to decorate your outside space this festive season, including Christmas garden lights, plants and decorations.
Always remember that installing a high quality fake lawn will allow you and your guests to enjoy some time outside in the fresh air without the worry of treading mud back into the house. Artificial grass will look lush and attractive throughout the winter season.
At Astro Warehouse, our artificial grass range is premium grade quality and comes by the roll, so it can be supplied to you at unbeatable prices. Samples?  Order yours here.
Don't forget to check out our installation guides for help fitting false grass on any type of surface.
Questions? Get in touch with our expert team.